OnPage Enterprise Incident Alert System – MSPs & Data Centers
OnPage is the Secure Industry Standard Priority Round-Trip, Enterprise IT Alert Messaging System.
Anyone requiring secure critical alerts can download a FREE OnPage TRIAL and sign up within minutes.
Once installed, OnPage transforms a smartphone into a secure messaging enterprise alert system that ensures urgent messages always get through to individuals and groups.
OnPage has become an essential critical system alert application for MSPs, Data Centers and IT administrators by integrating with their installed server monitoring systems, such as Opsview, Nagios, SolarWinds, ConnectWise, and many more.  The OnPage Enterprise IT Alert Management System is available for iOS, Android and Blackberry.
"OnPage leverages expanding cellular and WiFi coverage, to provide reliable and secure,
HIPAA-compliant communication in critical situations with no room for uncertainty." Judit Sharon CEO.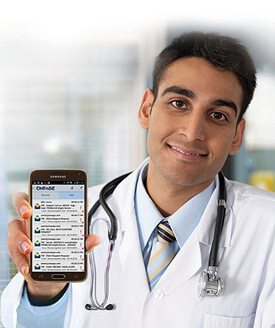 OnPage is also essential for Doctors and emergency responders, law enforcement, and the call centers that support them. 
All priority communications are in compliance with HIPAA and all privacy regulations.
"In any critical situation, whether relating to human-life or a company's IT life-line to its customers, the key to a fast recovery relies on secure and immediate communication." Says Judit Sharon, CEO of Onset Technology. "With traditional pager coverage shrinking by the day, and SMS communication not being secure or reliable, OnPage leverages expanding cellular and WiFi coverage, to provide reliable and secure, HIPAA-Compliant communication in critical situations with no room for uncertainty."
OnPage supports all of the major smartphone platforms. IT departments, data centers, hospitals, emergency services, media, and other organizations can consolidate all communications in a single Android, iPhone or Blackberry device. Users will be confident that their priority and mission-critical messaging will be transmitted using cloud-based, SSL encryption. Messages will be received, and most importantly, they will be read.
Additional OnPage Benefits Include:
Global, Fast and efficient paging.

Continuous alert until acknowledged with failover.

Automated Schedule Rotation w/ Full Audit Trail

Secure, End-to-end encryption.

Easy to confirmation and tracking of conversations.

Reliable, Affordable and Simple to Deploy.
OnPage works over the cellular data communication channel as well as WiFi. OnPage performs even in areas with poor cellular coverage.
About OnPage:
OnPage is the industry leading Smartphone application system for Global, High-Priority, Real-Time Enterprise Messaging, Cybersecurity Intrusion Compliance and IT Alert Management.  The OnPage application addresses the need for critical incident response management and secure time-sensitive messages.
OnPage takes mobile communications to the next level with the latest all-in-one-app features, including the ability to set priority level for each message to ensure the High-Priority messages receive immediate attention. Additionally, the new web based On-Call scheduling management tool enables enterprise users to plan ahead and route prioritized messages to the right person, on the right day, at the right time.
Thousands of IT Professionals, healthcare providers, doctors, field engineers, law enforcement, nurses, emergency responders and disaster recovery teams depend on OnPage rock solid reliability every day.
Leading corporations, including Blue Chip organizations have adopted OnPage for critical alerts and secure messaging.
For more information visit: OnPage.com
***
OnPage is The World's Most Advanced Enterprise Priority Messaging Solution.

Download Your Free Trial Today!
CONTACT Sales: [email protected]
Call: 781-916-0040 – Ext. 110