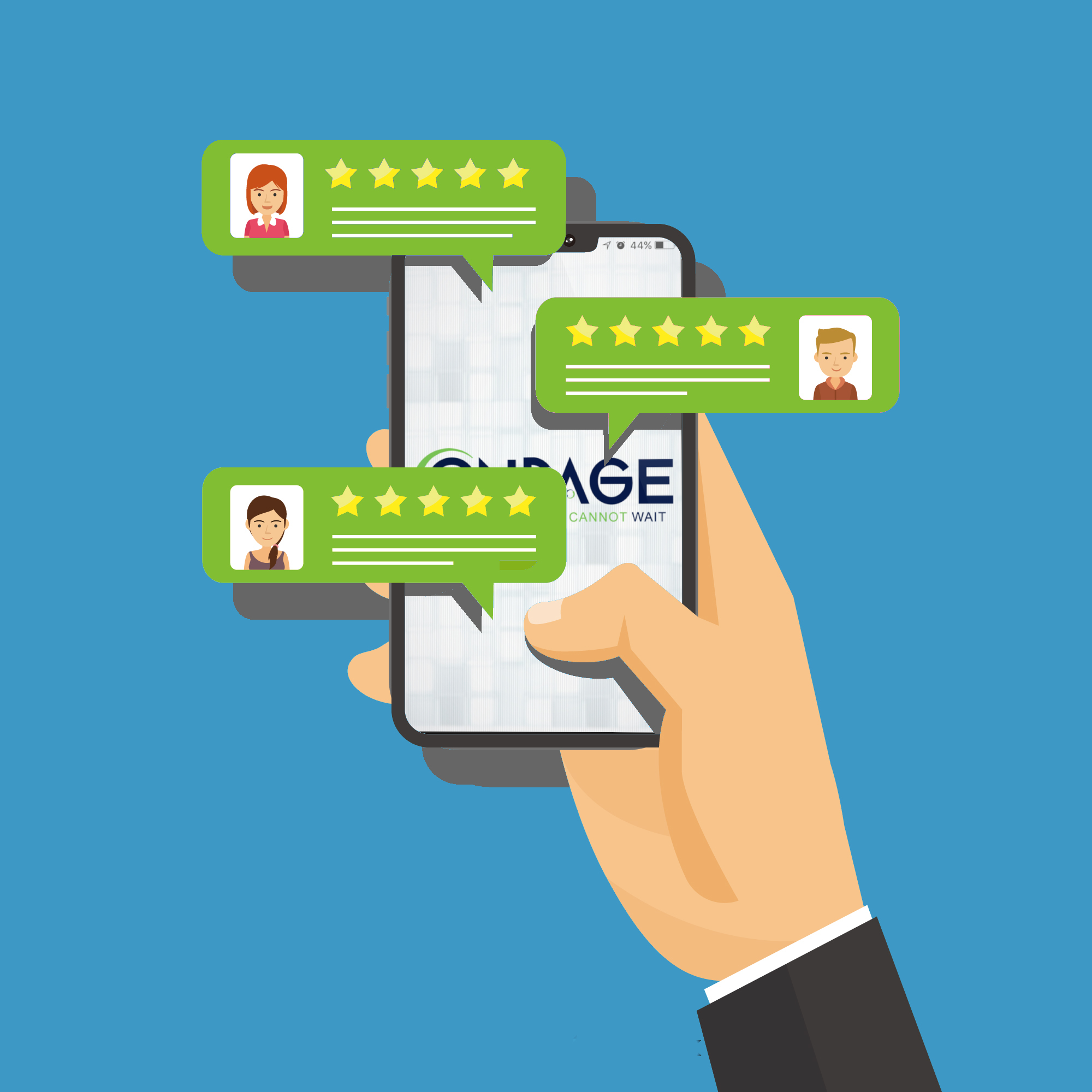 Our Client Testimonials
OnPage is a reliable critical alerting platform, streamlining clinical and IT team workflows. It's a 21st century HIPAA-compliant system, built with must-have capabilities and functionalities. 
But don't take our word for it! Check out what our clients have to say … 
What Customers Are Saying ...
I'm part of a three-person 24×5 team. Since we're tied to service level agreements (SLAs) on response time, we need the pager app to be timely in message delivery. OnPage is always timely and secure.
Edgar K.
Small-Business User
OnPage is a very easy and reliable service to use. OnPage quickly enabled us to set up alerts from our monitoring system (SolarWinds).
Osvaldo T.
Network Operation Manager for Americas
It's a secure and easy-to-use HIPAA-compliant platform for messaging clinical staff about sensitive PHC. It's simple enough for non-tech native users to access it with ease.
David T.
Mid-Market Healthcare User
OnPage rings at a set volume no matter what my phone ringer volume is set to. It's loud and distinct enough that it can be heard clearly and never fails to wake me up.
User in Hospital & Healthcare
Small-Business User
Our after-hours help desk phone transfers callers to our OnPage dedicated phone number with a voicemail message. Unlike pagers, OnPage allows us to receive a message in the app from the caller.
Stan R.
Enterprise User
OnPage allows us to provide mission-critical alerting after business hours. Workflows are able to be established to make sure alerts are handled appropriately and timely.
Ben M.
Lead Systems Engineer
It is a great, reliable service. They are upfront with any issues and are very quick to resolve them. In the past few years, we have never missed a page due to OnPage.
Trevor S.
Small-Business User
Our after-hours staff have loved the simplicity for alerting of after-hours support calls. We use OnPage for all of our server reporting alerts.
Ben W.
IT Specialist
Our team leans heavily on Autotask as our PSA. OnPage integrates well, allowing our team to control when notifications come in.
Troy H.
Mid-Market User
OnPage can override the do not disturb feature on my iPhone. I'm not aware of any other product that can do that. It is 100% reliable. I've never missed an alert from OnPage.
Ernest S.
SQL Database Administrator
The problem we solved was alerts going unnoticed for a long time. OnPage allowed instant recognition of issues as soon as they happened.
William S.
Information Control Manager
We are a telecom company and need to have 24-hour support. OnPage has eliminated our need for an answering service. Customers simply call our main number and leave an emergency message.
Adam R.
Support Engineer
The instant notification capability and the ConnectWise integration is awesome! With the ability to instantly respond to a service ticket, we can more effectively communicate with our clients.
User in Information Technology and Services
Small-Business User
It's an app that works as a beeper. Now, I don't have to be texted when I'm on-call. I'm glad OnPage added the feature to override DND.
User in Hospital & Healthcare
Enterprise User
I really like how the OnPage app works. It allows us to receive our alerts in a timely fashion so that we can provide our customers with the best support possible.
Scott T.
Senior Service Management Engineer
It is highly effective, and does what it is intended to do – notify me when critical service requests come in.
Jeff M.
Mid-Market User
With OnPage, I no longer have to carry a pager. I stopped my pager service last year and barely remember what it was like using a traditional pager.
Jeoffrey W.
Small-Business Healthcare User
Instead of carrying a physical pager, I continue to use my existing phone. I'm able to page colleagues directly rather than hoping they will pick up a text.
User in Higher Education
Mid-Market User
The best thing I like about OnPage is that it does its job well. By using OnPage, my client can get a hold of me in a fast and reliable fashion.
Ivan S.
Small-Business User
OnPage alerts me when needed. I have never missed another critical page.
Ryan L.
Help Desk Engineer
OnPage is easy to use, serves its purpose well, and customer service is excellent. I called at 9 p.m. on a weeknight for a technical issue, and my call was returned very shortly after.
Alex M.
Small-Business User
It's much faster than my previous platform. Sign out and communication capability is also very helpful with the rest of my team. I recommend OnPage to other hospitalist practices.
Monica V.
Hospitalist
OnPage is awesome to use in movie studios. We use it to send people notifications about certain tasks. We never had any interference using it and we are very happy with it.
Jacob L.
Product Assistant
Previous alerting was email only and many alerts got lost in the clutter of a messy inbox. OnPage put critical alerts in plain sight so we can focus on important issues as they arise.
Mark N.
Small-Business User
Testimonial From Agility Recovery