Quick Tips
Below are some quick tips on how to use OnPage:
1. OnPage ID's
OnPage ID's must be at least 5 characters long. If you are going to receive pages via phone using the OnPage toll free number, choose an OnPage ID composed of just numbers and as short as possible, e.g. OnPage ID= 78191. If you decide to use a Alpha characters keep it short, remember those who page you will need to enter your OnPage ID using the alpha characters on the dial pad.
2. Adding Contacts To OnPage
To add a contact to OnPage contact book, you just have to enter the contact into your phone's address book and under Email enter the [email protected]. The OnPage app will scan your phone contact book and extract all contacts with @onpage.com into your OnPage Contacts. Next time you compose a message from the application contacts will appear either as you start to type the first name of your contact or by clicking the '+' sign in the 'To' field of the compose message screen.
3. Logging Out/ Pager OFF
We recommend that you never log out of the OnPage application. If you do not want to receive OnPage messages we suggest using 'Pager OFF' in your applications profile selector.
4. Pre-Defined Responses
We recommend you set up the pre-defined responses for One-Click response. Have those common, highly used, responses at your fingertips. All you have to do is go to 'Setting' go to 'Canned responses' and 'Add New Row'. Next time you get a message you will be able to reply with one click on your Pre defined responses.
5. Sending Messages via email
OnPage requires a valid sender (from) address when sending a message via email. Almost all email environments incorporate this by default. However, the OnPage team has logged a few instances where there was an exception. Here are the problems, causes, and solutions for two of these mail environments to ensure there is a valid "From" address.
Exchange Online – Microsoft 365 – when users send email messages to a distribution group that contains external recipients, the external recipients don't receive the messages
Domino/Lotus Notes – By default, Domino/Lotus has the sender set to null. The issue can be resolved by changing…
6. Override Do Not Disturb and system volume
Unfortunately, right now Apple's APIs do not allow our app to override Do Not Disturb mode or the system volume on iOS. If this changes in the future, we can investigate ways to implement the feature to override system volume for push notifications.
The current workaround to have an OnPage alert override the Do Not Disturb or silent switch is to have the alert delivered as an IVR redundancy call using a dedicated switch, called Emergency Bypass. This can be done on iPhones with iOS 10+ by following the steps below:
Add IVR redundancy to the OnPage contacts user profile
Go to the Dispatcher>Contacts Tab and select the contact
Open the profile and click on edit
Add the 855-266-7243 number
Uncheck the Secured Messaging
Check the IVR box to enable IVR calls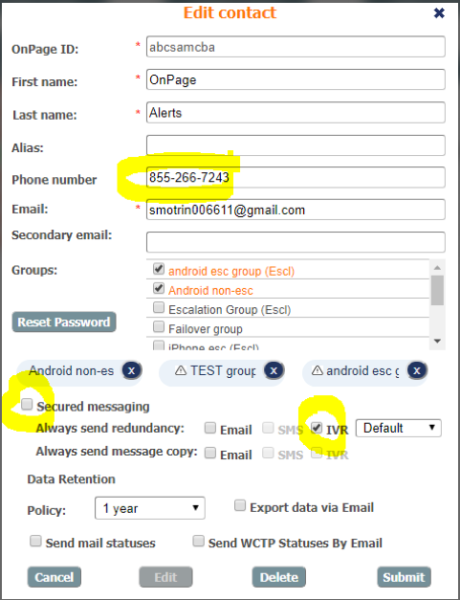 7. Add the number 855-266-7243 as a contact in Favorites in the iPhone contacts.
8. After creating the new contact click on Edit and then click on Ringtone Default.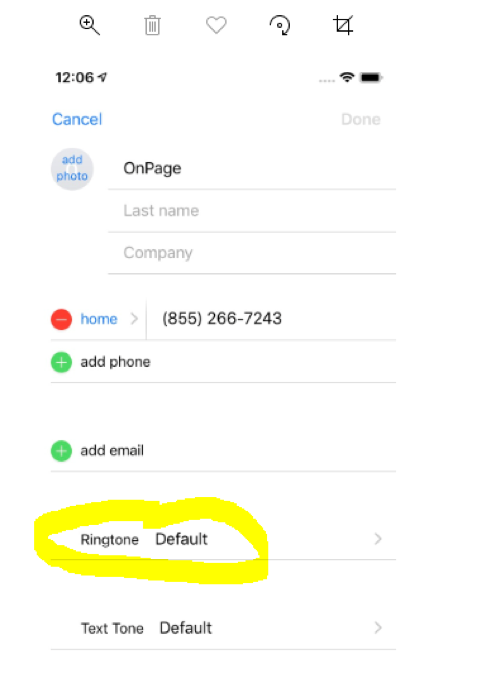 9. Enable Emergency Bypass On and click Done.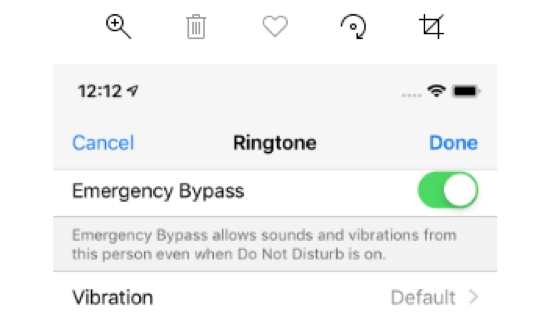 10. Profile should now look like this: