Live Call Routing: How it Works

Live call routing effectiveness is attributed to its automation. "Turns" or on-call assignments are created with OnPage's automated scheduler, ensuring that the right responder receives the urgent call.
The process begins when a client or patient dials a dedicated OnPage number. Based on the automated schedule, the on-call responder receives the call on mobile. If answered, the responder connects on a live call with the caller, ensuring that his or her problems are resolved promptly.
If not answered, the call is then escalated to the on-call group. In the unlikely case that all on-call members don't answer, the caller is then prompted to leave a callback number and/or voicemail. This way, all members become aware of the caller's urgent issues.
Real-Time Access
Simplify the process for customers to reach multiple individuals/groups/departments in a business through one number

Automation and Escalation
Provide your customers with just one number and through OnPage's automation and escalation policy, a critical alert is sent to the right person responsible for the incident. Regardless of your location, critical alerts will always reach your mobile device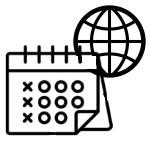 Streamline After-Hours Calls
Streamline after-hours communication, allowing customers to leave a callback number and/or voicemail

Brand Your line - In Multiple Languages
Enable business branding with personalized automated greetings and bilingual phone trees

Global Access Numbers
Be it local or international numbers, always reach the right person

New Feature:
Powerful Live Call Routing Reports
Gain intelligent insights into your team's live call routing usage with time stamps and response statuses with OnPage's reporting dashboard for live call routing. The customizable reports can be exported for further analysis by managers.