OnPage for Monitoring Services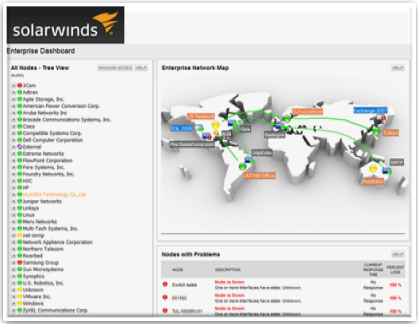 IT professionals using monitoring services such as Solarwinds know how important it is to receive CRITICAL ALERTs in a timely fashion. With your Solarwinds alerts being sent via SMS or email you not only run the risk of missing an alert but you're also forced to check your phone every time you get any email or SMS, even at night! With the average professional receiving around 150 text messages and emails a day, an alert could easily get lost among the clutter of unimportant messages.
OnPage, a virtual pager application for Smartphone's, relieves these problems through a few essential features. First, OnPage will continuously alert you until acknowledged with a unique tone so you know without a doubt that you have received a Solarwinds alert. Second, OnPage provides its users with a dedicated inbox for critical alerts so you don't have to sort through your emails. Third, OnPage will override the silent feature on Blackberry, Android and iPhone.  (iPhone uses a workaround) This will allow you to rest easy at night knowing that if an alert did come through you would still hear it. Fourth, OnPage comes with ON/OFF button so when you are not on duty you can opt out of receiving the alerts.
OnPage seamlessly integrates with Solarwind's monitoring services to ensure critical alerts are sent to your Smartphone as a prominent page. Simply configure Solarwinds to send a copy of the alert to OnPage on your Smartphone. Just login to Solarwinds and change the method by which you would like the get alerted. This is as easy as changing your current email address ([email protected]) to your OnPage email address ([email protected]).OnPage messages will then go to a dedicated inbox on your Smartphone so your important messages won't get mixed up in the clutter of your emails and SMS's.
OnPage even provides group and escalation features to ensure redundancy. Through our escalation feature OnPage automatically sends messages to a succession of people if a message is not read by the intended recipient within a predetermined time period. OnPage is an ENTERPRISE GRADE solution, yet is as easy to install and use as an app.
When your alerts from Solarwinds are on the line, don't trust your everyday SMS or email address that you use for work, family, or friends. Missed alerts may have consequences such as server downtime, company downtime, revenue loss, and reputation damage. When your reputation is on the line it is imperative that you prioritize your CRITICAL alerts!
Key Benefits:
When the message absolutely, positively needs to get to your phone, OnPage will deliver (the FedEx of alerts)
You know if and when the message is received and read.
Absolute Alert. It will not stop until you react to the message. (If the message can be delivered they will get it or you get alerted)
Integrates with any software that can send an email or SMS at no ongoing cost
OnPage messages can be sent through any phone line (modem) for redundancy
Shortens response time by 40% and drives missed alerts to 0.
Hosted, SAS 70 certified and SSAE 16 compliant facility