OnPage and ConnectWise: Incident Alert Management Workflows

Let's set the scene: You're an on-call engineer, working for a dedicated support team. Your priorities are twofold, including, (1) speedy incident resolution and (2) satisfying clients and stakeholders.
With these demands in mind, you adopt OnPage's integration with ConnectWise. The integration streamlines the ticketing-to-alerting process, ensuring that your team achieves client service excellence.
I'll now highlight three incident alert management workflows, showcasing how the OnPage platform integrates with ConnectWise solutions to boost support team performance.
Workflow One: OnPage-ConnectWise Manage Integration
In our latest ebook, we discuss the simple process of using OnPage's integration with ConnectWise Manage to streamline teams' resolution practices.
So, how exactly does the OnPage-ConnectWise Manage workflow look like?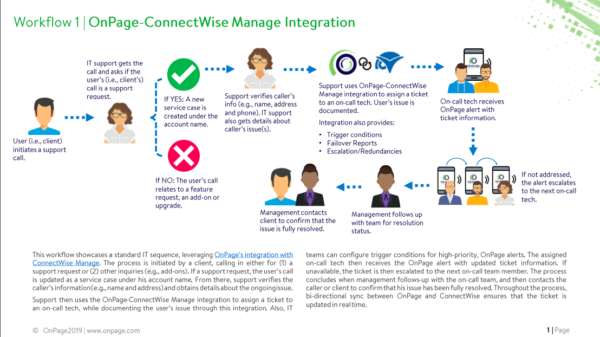 The process is initiated by a client, who's calling either for (1) a support request or (2) other inquiries (e.g., add-ons).
In the case of a support request, the client's call is updated as a service case under his account name. From there, the support team verifies the caller's information (i.e., name and address) and documents the issue.
This sequence continues with:
Support using the integration to assign a ticket to an on-call tech, while configuring trigger conditions for high-priority alerts

The on-call tech receiving the alert with updated ticket info; if unaddressed, the alert is escalated to the next on-call team member

Management following-up with the support team and contacting the caller, ensuring that the issue is fully resolved
Throughout the process, there's a bi-directional sync between OnPage and ConnectWise, guaranteeing that the ticket is updated in real time!
Workflow Two: Ticket is Created via Client Email
Similar to the previous workflow, the client initiates the process by contacting his support team. However, a client uses a dedicated email address to connect with support, detailing the IT-related issues faced.
Before a ticket is created, support leverages the OnPage-ConnectWise Manage integration to:
Determine time requirements

Assign who's on-call

Determine

ticket priority

(e.g., high-priority versus low-priority)

Select alert "reply options"

Establish "IF" and "THEN" alert conditions
Following this configuration, ConnectWise's Email Connector automatically converts the client's email message into a service ticket. An on-call tech then receives a detailed OnPage alert, including the predetermined "reply options."
If the tech replies "ACCEPT," he's then responsible for incident resolution. His performance is documented through OnPage audit trails and post-mortem reports.
If the on-call tech rejects the alert, then the critical notification is escalated to the next on-call team member. In the case that no one addresses the alert, management receives an OnPage failover, alongside audit trails and post-mortem reports.
Workflow Three: Ticket is Created via Speech Recognition
In this final sequence, a client initiates the process by calling a support line. He's then prompted to answer IVR questions to connect with the appropriate support team.
If the client's call isn't answered, he then leaves a voicemail, which is transcribed and converted into a ticket through ConnectWise Automate. Automate uses "trigger keywords," which are configured within the OnPage-ConnectWise integration to automatically create tickets and send alerts.
Alongside the transcribed voicemail, the client's original voice recording can be included in the ticket. From there, an on-call tech receives an OnPage alert, equipped with the client's initial voicemail and complementary text.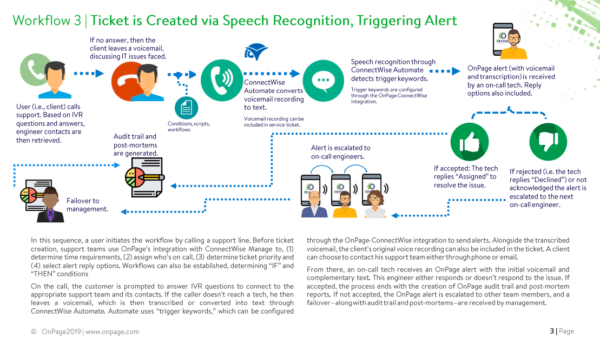 The process concludes when an on-call tech either "ACCEPTS" or "REJECTS" the issue described in the OnPage alert.
If accepted

: The on-call tech resolves the issue and OnPage audit trail and post-mortem reports are generated

If rejected

: The OnPage alert is escalated, and a failover—along with audit trail and post-mortems—are received by management (if alert isn't acknowledged by on-call team)
Support teams trust OnPage's integration with ConnectWise to enhance transparency and reduce resolution time. Check out our latest ebook to learn more about these OnPage-ConnectWise benefits, discovering how the integration boosts support team operations.
Interested to learn more? Want to see the OnPage-ConnectWise integration in action? Contact us or request a demo!