Doctors Speak Up for Digital Communications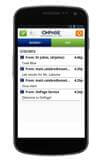 It is no secret that some of the hardest working professionals in today's world are physicians. With an increase in patient visits, doctors are starting to feel the burden of longer hours and have expressed that they want practical help accomplishing their day to day tasks. The practical help they are looking for isn't in the form of a secretary either, in fact doctors are increasingly looking for solutions within the digital world.
According to a survey by healthcare agency Publicis Touchpoint, doctors want efficient methods of communication that will allow them to spend more time with patients. Publicis surveyed 250 physicians from the Sermo database and found that in their daily work, 88% carry smart phones and 54% use iPads or other tablets. These doctors also expressed that they expect more mobile health messaging or priority messaging through these outlets. Not only do doctors want to communicate digitally with their coworkers and superiors they also want to communicate this way with their patients. The same survey found that doctors communicate with their patients primarily via the phone or email. As doctors and patients increasingly interact via eMail, secure messaging or secure electronic transfer of patient information is becoming ever more important.
Publicis has been conducting this survey since 2008 to offer guidance on what physicians truly want and need. As more doctors continue to embrace digital media, it's not surprising they are vying for it to be implemented at work as well.