MSP Guide to Navigating an Impending Recession

Amidst mounting pressure from macroeconomic headwinds, businesses must prepare for declining consumer spending, less investment, and tighter credit conditions to survive. Managed Service Providers (MSPs) play a valuable role in helping businesses to navigate upcoming economic downturns, from optimizing costs to providing scalable solutions.
MSP Strategies to Support Businesses in a Recession
In this guide, we'll discuss the following MSP strategies to support businesses through recessions:
Cost optimization
Disaster recovery planning
Diversify your client base
Talent management and employee engagement
Using scalable solutions
1.    Cost Optimization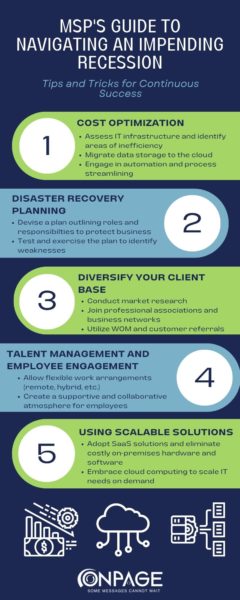 During a recession, businesses often experience a decline in revenue and face economic uncertainty. Optimizing costs helps ensure financial stability by reducing expenses and maximizing available resources, allowing businesses to weather the economic downturn, maintain profitability, and preserve cash flow.
An MSP can work with its client to implement the following cost-optimization strategies:
IT infrastructure assessment and optimization. An MSP will assess the client's IT infrastructure, systems, and processes, identifying any areas of inefficiency. Once they provide a report—which could be laid out like this internal audit report example—they recommend optimization strategies such as improving network infrastructure.
Cloud migration and resource optimization. For more cost-effective storage options, MSPs will evaluate the client's workload and help in the execution of a cloud migration strategy. This will typically include leveraging auto-scaling.
Virtualization and server consolidation. The MSP will identify virtualization opportunities to consolidate physical servers and optimize resource utilization. This reduces hardware costs and maintenance requirements.
Software license optimization. By reviewing the client's current software usage and license agreements, MSPs can identify unnecessary usage and recommend adjustments. This helps to reduce costs.
Automation and process streamlining. An MSP will identify repetitive processes a business can automate to reduce labor costs, enhance productivity, and improve mean time to respond. For instance, it may consider optimizing existing critical incident workflows to elevate high-priority notifications using incident alerting tools.
By leveraging an incident alerting tool, businesses take the guesswork out of critical incident management, gaining a reliable way to deliver critical issues to the right service owner on their phones and automating the process of alert routing and escalation based on on-call schedules.
Try OnPage for FREE! Request an enterprise free trial.

2.    Disaster Recovery Planning
Disaster recovery planning is crucial for businesses facing a recession. It helps ensure continuity of operations and minimizes potential financial losses.
MSPs play a significant role in assisting businesses with their disaster recovery strategies during an economic downturn. By collaborating with an internal audit management team, MSPs can create a comprehensive disaster recovery plan (DRP).
Here's how to perform disaster recovery when navigating a recession as a business:
Disaster recovery plan: During the collaboration between a business and an MSP, a comprehensive DRP will be developed. This defines roles and responsibilities and escalation procedures to protect businesses.
Testing and exercising: Businesses need to test the DRP to identify any weaknesses regularly. An MSP will assist in coordinating mock disaster scenarios to train employees on how to implement real-world recovery situations.
Use cloud services: An MSP may recommend that a business leverages cloud services to improve disaster recovery. This may involve replicating data to the cloud for the purposes of recovery.
3.    Diversify Your Client Base
As a business facing a recession, you should diversify your client base to expand into new markets. This will not only reduce your dependence on a smaller client base but also positions your business for resilience during an economic downturn by including a string of industries in its portfolio that tend to weather the recession better than their peers.
While MSPs mainly focus on IT services, their understanding of the business landscape and technology solutions can be invaluable in supporting businesses' efforts to diversify their client base.
Here's how you can reach more potential clients:
Market research: Conducting market research to identify new target markets or customer segments that align with the business's offerings can help your business unleash expansion opportunities.
Networking: By joining professional associations and business networks, you can improve your visibility and reach the right people. Consider collaborating with complementary businesses to target their client base and offer joint services.
Customer referrals: By providing excellent customer service to your existing client base, you can encourage repeat businesses and referrals, helping you to attract new clients to your business.
Strategic sales: Investing in a sales team can help you seek new clients and opportunities. An MSP can provide technological foundation to facilitate a sales forecasting process that could be then used to track and measure sales progress and nurture potential relationships.
4.    Talent Management and Employee Engagement
Managing talent and ensuring high levels of employee engagement during a recession is crucial for maintaining productivity, motivation, and loyalty within the organization.
MSPs can use their expertise in IT management to create a better environment for employees, enabling remote or hybrid work and providing the proper training and support.
Here's how you can properly manage your employees in preparation for a recession:
Flexible work arrangements: Consider flexible work arrangements such as remote work or flexitime to keep your employees happy. Provide the necessary tools and technology to support remote work and ensure effective communication. An MSP can help you establish your remote work technology and processes.
Employee support: Prioritize employee well-being and mental health by offering resources, support, and access to counseling services. This will help to foster a supportive and inclusive culture where employees feel valued and cared for, preventing them from leaving the business when times get tough. MSPs may offer digital solutions that improve access to behavioral healthcare for employees in distress, such as dedicated phone lines to clinicians.
Team building: By fostering a sense of teamwork through collaborative activities, your business can enhance its problem-solving and innovation skills—essential in a recession. This will also foster a positive work environment that improves the morale of employees across all departments.
Try OnPage for FREE! Request an enterprise free trial.

5.    Using Scalable Solutions
Scalable solutions are essential for businesses facing an upcoming recession because they provide the flexibility and agility to adapt to changing market conditions and resource constraints.
MSPs can assist by recommending and implementing scalable platforms, cloud-based solutions, and virtualization technologies that facilitate innovation without costly upfront investments.
Here are some scalable solutions your business can use to prepare for an upcoming recession:
Software-as-a-Service (SaaS): By adopting SaaS solutions, businesses can eliminate the need to invest in costly on-premises hardware and software. SaaS applications are also typically scalable and can easily accommodate changes in the number of users or functionality requirements.
Cloud computing: Businesses that use cloud computing can scale their IT infrastructure, storage, and computing resources on demand. It provides flexibility and cost-effectiveness by enabling businesses to pay for resources as needed, saving significant money.
Hire an MSP to Help Your Business Prepare for Recession
An impending recession can cause significant business challenges, but with the right strategies and support, you can navigate through these difficult times successfully.
Managed Service Providers (MSPs) are crucial in helping businesses navigate impending recessions by providing expertise, resources, and scalable solutions to optimize operations and manage costs.
From cost optimization strategies and IT infrastructure assessment to disaster recovery planning and talent management support, MSPs offer valuable guidance and services to help businesses adapt and thrive in challenging economic environments.