How MSPs Can Provide Irreplaceable Value in Uncertain Times

If you have been following the financial news lately, you have surely become all too familiar with the challenging economic conditions that have emerged in 2022.
Though the primary concern in the media is how a recession will affect consumers, the impact on businesses must also be considered. As rising inflationary concerns put pressure on the bottom line, decision makers within businesses of all sizes are suddenly having to re-evaluate strategies, forecasts, and expenses. This sudden pivot to a more conservative outlook is not unlike the approach adopted by businesses at the onset of COVID-19.
As business clients review their costs with stricter scrutiny to find opportunities for reallocating resources, one expense that businesses cannot afford to slash is their investment in managed services providers (MSPs). To support their business clients and remind them of their value during this period of economic uncertainty, it is crucial that MSPs deliver excellent service by:
In a business environment where remote workers are clocking in from around the world, MSPs must be able to provide organizations seamless resolution of outages and 24×7 coverage against cybercriminals who prey upon the network vulnerabilities created by work-from-anywhere policies. As costs rise across all facets of their operations, your business clients cannot afford unexpected service outages or cybersecurity breaches going unaddressed for extended periods of time.
Consider as well that companies being forced to make layoffs during these difficult times could suddenly find themselves operating with understaffed, ill-equipped internal IT teams, leaving them especially susceptible to such catastrophic incidents. Beyond just financial and reputational damage, poor incident response could also cause legal or regulatory problems for your clients.
Fortunately, their investment in managed service agreements serves as a form of insurance against issues beyond the scope and schedule of their internal IT teams. MSPs that can deliver on their promises of 24×7 coverage are indispensable in any economic climate.
Maintaining and Maximizing Investments in Digital Transformation
The circumstances created by the onset of the COVID-19 pandemic pushed many organizations to accelerate their digital transformation efforts to better accommodate a remote workforce. This has certainly kept MSPs busy for the past few years!
Businesses may now be less bullish on their digital transformation spending, however, due to the easing of pandemic-related restrictions and the aforementioned economic uncertainty. Despite the current economic constraints, organizations must not lose sight of digital transformation's importance in the bigger picture beyond the circumstances of the pandemic. Though a return to "normal" pre-pandemic working conditions comes as a relief to many, other organizations are continuing to embrace and build upon the new efficiencies they discovered once they were forced to double down on digital transformation.
For businesses still looking to hire in this economic climate, the flexibility of a digital workplace can be an influential differentiating factor in attracting job applicants. As technology continues to evolve at a rapid pace and informs the strategies of competitors, businesses resisting or delaying digital transformation will fall behind the curve and lose out on top talent.
MSPs should remind their clients of the competitive advantages to be gained by maintaining existing systems and continuing digital transformation, such as cloud scalability, stronger data security, and faster incident response.
Try OnPage for FREE! Request an enterprise free trial.

Reducing Downtime with Incident Alert Management
For MSPs to continue providing irreplaceable value to clients, they must be able to thwart incidents promptly and efficiently. Within MSPs' workflows, the integral bridge delivering warning signs from digital monitoring, cyber security, and IT ticketing systems to on-call personnel is an incident alert management system.
Upon integration with your existing cybersecurity and monitoring tools, incident alert management systems automatically route critical messages to the correct on-call personnel. On-call scheduling tools within incident alert management systems allow MSPs to route alerts to only the most capable on-call personnel rather than disturbing off-the-clock team members.
Without making use of on-call scheduling, MSPs run the risk of incidents being mismanaged and alert fatigue festering among their team. So that no incidents are missed, however, MSPs must ensure that the alert management system they choose has the power to override the do-not-disturb or silent switch on their team members' mobile devices.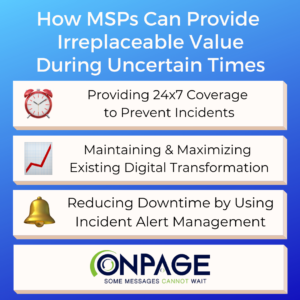 Become an MSP Superhero with OnPage
Here at OnPage, we believe that MSPs are superheroes! Our powerful incident alert management tool allows MSPs to deliver ALERT-UNTIL-READ messages to on-call personnel, ensuring 24×7 coverage and prompt incident resolution. OnPage notifications cut through the clutter of email and SMS to reach your team ASAP.
Supporting a versatile range of integrations including ServiceNow, ConnectWise, and Autotask PSA, OnPage is a seamless addition to your existing workflow.
OnPage is depended on by MSPs, IT teams, site reliability engineers, and DevOps teams. Don't just take our word for it: we are consistently recognized as a G2 High Performer. To learn more and request a demo, visit OnPage.com or give us a call at +1 (781) 916-0040.