Healthcare May be Broken But Healthcare IT is Alive and Well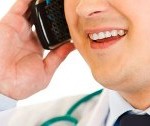 "Healthcare in America is broken". At least that's what many politicians tell us, but when it comes to healthcare IT, well that doesn't appear to be broken at all.
As a developer of replacement technology for paging communication systems, OnPage sees healthcare IT as a self-healing system with high-technology entrepreneurs, cracker-jack software developers and visionary investors pioneering the next wave of healthcare advancements.
According to a new study by RNCOS and reported in a blog post by MobileStorm, Healthcare IT spending will reach $40 billion dollars by the end of 2011. In fact, it's growing at an astounding annual rate of 24%. Those numbers are nothing to sneeze at (pun intended). They're impressive for any industry.
Healthcare workers too, are eager to incorporate new technology into their daily work routines to improve provider-to-patient as well as internal provider communications, facility efficiency, and overall care given to the patients.
Estimates point to the adoption of smartphones as an integral part of the healthcare IT growth. Aptilon Corporation conducted a survey through their ReachNet service and found that by the end of 2011, 84% of US physicians will be using smartphones. This number is remarkably close to the 82% estimate by Manhattan Research which conducted similar research.
It seems that no amount of government grid-lock can stop private business from helping the healthcare industry adapt technology to improve the care they provide.  For healthcare related smartphone applications like OnPage, we're excited to be part of the evolution of an industry.