Powering ConnectWise PSA With a New Alerting Workflow

Introduction
In our previous blog from the ConnectWise series titled "OnPage-ConnectWise Incident Alert Management Workflows," we discussed how customers are optimizing their investments in ConnectWise PSA. 
Now, we're excited to present a new and powerful workflow specifically designed for after-hours that addresses the evolving needs of IT and Managed IT clients. Developed through a close partnership with a leading MSP, this after-hours ticketing and alerting workflow showcases our commitment to tailored solutions and highlights the seamless integration between OnPage and ConnectWise.
We invite you to delve into this blog and uncover this new workflow created in partnership with an MSP, for MSPs.
The Story Behind the Workflow:
After briefly parting ways with us, one of our longstanding customers, Cygnus Technologies, approached us with an intriguing request for a ConnectWise workflow. Having experienced the OnPage brand before, they were eager to resume business with us if we could help streamline their ConnectWise after-hours workflow. At OnPage, we thrive on agility and responsiveness, making it our mission to find optimal solutions that address the pain points of the industries we serve. Determined to win back Cygnus Technologies, our integration engineers set out to create a workflow that precisely met their requirements.
The New Workflow: Ticket Creation via Voicemail Transcription and Keyword-Based Alerting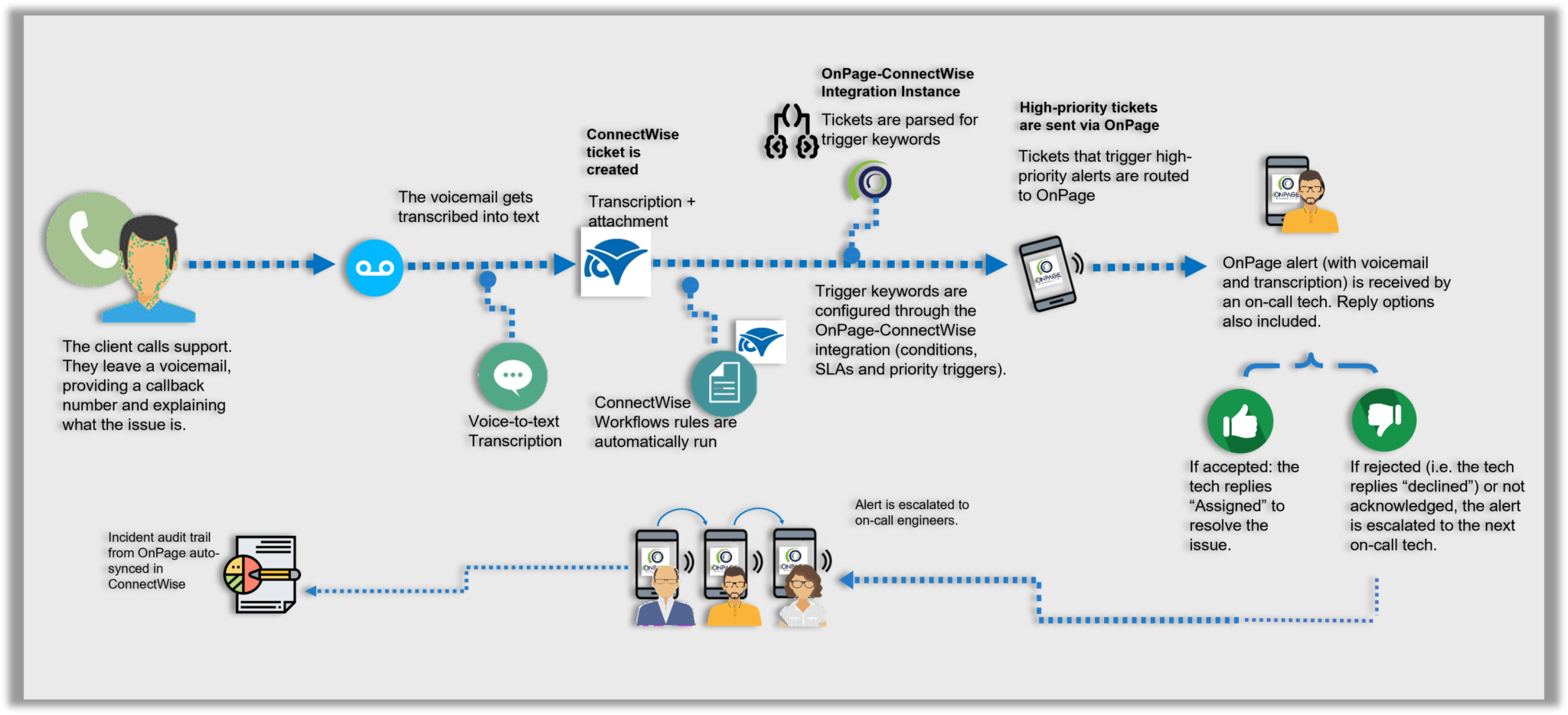 Here's how the new workflow unfolds:
Client Contact Initiation
The workflow initiates when a client reaches out to their tech support team by calling a dedicated phone line. They are prompted to leave a voicemail, providing their callback number and explaining the issue they are experiencing.
Automatic Ticket Creation:
ConnectWise PSA automatically generates a new ticket, incorporating the caller's information, the voicemail file, and a transcription of the voicemail. OnPage enables the conversion of voicemail to text, making this transcription possible.
ConnectWise Workflow Rules:
ConnectWise workflow rules come into play at this stage. ConnectWise workflows can be configured that include actions such as waiting for 5 minutes to check for self-remediation or any status update on the ticket. These rules facilitate specific actions, reducing manual efforts and standardizing processes using automation. In essence, the workflows are applied to tickets before moving them to the next stage in order to ensure efficient and consistent handling of tasks, streamline the resolution process, and minimize delays or errors in ticket management.
Keyword-Based Triggers:
The tickets that meet certain criteria and progress to the next stage are subjected to validation against pre-defined "trigger keywords" set within the integration module. These triggers encompass conditions such as SLAs, descriptions and incident priorities.
OnPage Alerts:
If the trigger conditions such as SLAs, descriptions or ticket priority are met, an immediate high-priority OnPage alert is automatically sent to an on-call member or an escalation group. This ensures that critical issues are promptly addressed.
Real-Time Synchronization:
As the OnPage alert is delivered, an audit trail with time-stamped message statuses is seamlessly synchronized with the ConnectWise ticket in real time. This provides a comprehensive record of all actions taken across the two platforms, allowing full traceability and visibility into the alert management process. 
Why After-Hours Support Matters for MSPs
The need for after-hours support stems from the understanding that IT issues don't adhere to a strict 9-to-5 schedule. Network outages, security breaches, and critical incidents can occur at any time, demanding immediate attention.
By providing after-hours support, MSPs demonstrate their commitment to delivering reliable and responsive services. They establish trust with their clients, knowing that a knowledgeable team is available whenever an urgent situation arises.
Unleashing the Power of the After-Hours Alerting Workflow
The newly introduced after-hours alerting workflow, developed in close collaboration with Cygnus promises to be a game-changer for ConnectWise PSA users. By seamlessly integrating OnPage and ConnectWise, this workflow addresses the specific needs of after-hours incident management and enhances the overall support experience for both MSPs and their clients.
Benefits of the new workflow –  In detail
The benefits that IT and Managed IT clients will realize through this new and effective workflow are numerous and significant. Firstly, efficient after-hours workflow alerting ensures that MSPs are promptly notified, enabling them to swiftly respond and proactively take care before the issue escalates. This proactive approach minimizes downtime and disruption for clients, resulting in improved service levels and increased client satisfaction.
Additionally, it furthermore streamlines the incident management process, reducing the manual effort required to handle after-hours calls. This automation not only saves time and resources but also allows MSPs to focus on more strategic tasks, such as long-term planning and proactive maintenance.
Furthermore, the after-hours alerting workflow enhances communication and collaboration within the MSP team, ensuring that the right person receives the alert and can take immediate action. This level of efficiency and coordination leads to faster incident resolution, reduced mean time to repair (MTTR), and ultimately, improved overall operational efficiency for MSPs.
Conclusion:
By combining the power of voicemail transcription and keyword-based triggers, the OnPage + ConnectWise workflow enhances incident management for IT and Managed IT clients. This streamlined process ensures that urgent issues that arise after hours are identified, prioritized, and addressed promptly, improving response times and customer satisfaction. With the seamless integration between OnPage and ConnectWise, organizations can unlock the full potential of their ConnectWise PSA investment.
To learn more about this workflow and how it can revolutionize your incident alert management, watch our "New OnPage+ ConnectWise Incident Alerting Workflow" video and download our latest eBook "OnPage-ConnectWise Incident Alert Management Workflows." Stay tuned for further insights in our ConnectWise series.