OnPage + ConnectWise Unite delivers solutions to reclaim your time 

OnPage is in the business of saving it's customers valuable time by mitigating human error and automating the entire alert management process. In the same vein our partners at ConnectWise and Cisco have joined hands to create a unique pilot program aimed at saving their customers time and improving overall efficiency.
ConnectWise UNITE for Cisco joins popular Cisco products like; Cisco Merkai, Cisco Umbrella, Cisco Spark and Stealthwatch Cloud to provide a solution for technology solution providers who are looking to scale their practice and reclaim lost time and revenue. The Cisco solution aims to alleviate MSPs from the burgeoning IT requirements of small and medium-sized businesses.
OnPage, ConnectWise and Cisco Spark work in unison to give teams the best of process automation, incident management and tools for team collaboration. While incidents are cataloged, managed and ticketed through a tool like ConnectWise Manage, MSPs and technology solution providers rely on OnPage to deliver efficient Incident Alert Management. OnPage also is used to manage team members by automating alert escalations to individuals and groups using our rule based algorithm. Cisco Spark come into play by offering amazing team collaborating tools like their Cisco Spark Board which Verizon has hailed as  "next evolution in cloud-based collaboration".
OnPage + ConnectWise
OnPage and ConnectWise has come a long way from when we first announced our integration 3 years ago. Today the integration supports the day to day workings of over 3000 MSPs with more and more being added to the number. Here at OnPage we love our MSP customers because they are an active bunch who work with us to create better solutions. Many of their suggestions have been incorporated in to our latest release of the OnPage + ConnectWise Manage integration.
What's New with OnPage+ ConnectWise 3.o Integration
REAL-TIME TICKET STATUS UPDATES – OnPage can now streamline the incident resolution lifecycle and provide ConnectWise Manage ticket updates from within the OnPage application on a mobile phone. To take a closer look at our integration and get further details on the following features download our guide. 
UPDATE TICKETS WITH REPLIES – if a stakeholder needs to be notified of what is going on with the incident the entire incident thread can be sent to them as it captures full event details from the time the ticket was created to the latest updated put in by the responder handling the incident.
MANAGE STAKEHOLDERS WITH E-MAIL GATEWAY – MSPs hated having to give their clients access to their ConnectWise instance in order to give them live updates. This was not only impractical but also a hassle. As more and more clients began to request for status updated and an ability to reach the responder to communicate incident details with them MSPs needed to rely on emails, phone calls and SMS to keep all concerned parties aware of what was happening. Most of the time phone and SMS updates went unrecorded and in the end there was no real way of cataloging the conversation for prosperity.
AUTOMATE ALERTS FROM VOICEMAIL INITIATED TICKETS – Some of the benefits of the feature includes the voicemail being transcribed and included in the ticket by using the Voicemail-to-Ticket feature in ConnectWise. This is sent to OnPage users as a smart alert with the transcribed message in the message body. In doing so one avoids human errors in transcribing the details of the incident and finally one experiences faster incident notification through automation.
OnPage + Cisco Spark
OnPage's Cisco Spark integration is the perfect tool for enterprise communication, allowing the user to add critical, time-sensitive, messaging capabilities to the communication channel. All your files and conversations are in one place with Cisco Spark and so is the time-stamped audit trail of the communication with OnPage. Messages are accessible securely through the cloud on your devices. Cisco Spark allows you to message, commence video calls and even share your screen.
Cisco Spark brings together chat, voice calls, video meetings and file sharing. While Cisco's tool competes in a field against well-known tools like Cisco Spark and HipChat, Cisco has found ways to differentiate itself through its inclusion of video chat and whiteboards into one platform along with providing interfaces with many other products and solutions.
Yet Cisco Spark needs to incorporate critical alerting capabilities to be truly effective in IT. Why? The answer is because IT needs the capability to conduct critically important conversations removed from the noise of regular Cisco Spark rooms. Currently, one of the biggest complaints of Cisco Spark users (see image below) is the lack of critical notifications.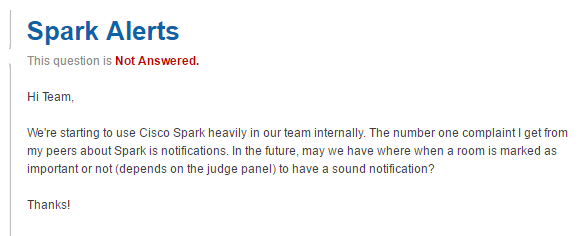 IT is in charge of monitoring critical technologies, servers and infrastructures. When any of these components go down, the IT team needs to solve these matters quickly and with efficiency. If normal conversations are occurring in the Cisco Spark room, then the elevated conversation needs to take place in a separate Cisco Spark room undisturbed by the normal conversations. Switching platforms should not be an option as it creates inefficiencies.
Integrate with critical alerting to elevate messaging
For alerts to be effective, they need to be smart, actionable alerts. That is, rather than receiving a barrage of alerts, users should be able to define thresholds that determine when alerts are sent and ensure that alerts go to the relevant room or person in Cisco Spark.
IT employees are concerned when alerts are sent to traditional chat rooms as the alerts get buried. Instead, a more practical solution is to receive critical alerts in a separate room or have the person on-call receive an alert through their smartphone. The IT engineer can then continue the critical conversation in a Cisco Spark room on their smartphone or laptop.
Ideally, the smartphone technology will be integrated with Cisco Spark so that alerts can be sent from Cisco Spark to the technology. This will enable IT to reach out to engineers in critical situations more easily. Using Cisco Spark to receive alerts makes it easy to get mobile notifications and collaborate as a team around production or support issues.
Conclusion
We wish our partners at ConnectWise and Cisco Spark all the success in the world. We will continue to work with them to provide out-of-the-box solutions to saving our customers time and improving overall efficiency by mitigating human error, automating processes and team collaboration.
_______________________
If you have any questions about how our integrations work, contact us and we will be more than happy to walk you through them.
Fill out the form below to request a demo of this integration: