OnPage Celebrates 6th Birthday By Expanding Integrations and Functionality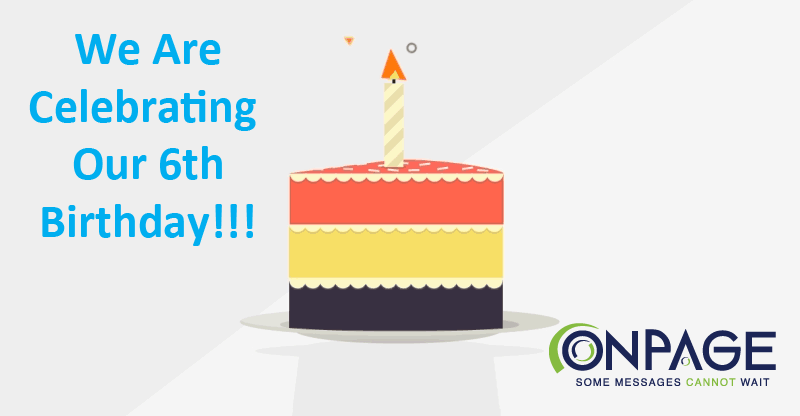 When we started OnPage in July 2011, we had the simple idea of bringing a smartphone-based critical alerting platform to healthcare. Until then, healthcare had relied on pagers for their alerting needs. But we realized pagers were a dying breed and we had the technology that could put the final nail in the pager coffin. Fast forward 6 years. Today we have over 20,000 customers on 5 continents and serve verticals beyond healthcare such as MSPs, IT and IoT.
Prior to our launch in 2011, we had been a successful on-premise enterprise-based software that created urgent messages for the Blackberry. But we changed direction to become a 100% cloud-based service. With the switch to the cloud, we could expand our offering to include an application for the iPhone and Android.  We were the first company in the market that was able to bring secure priority messaging across all mobile devices, including: Android, Blackberry, and iOS.
Today, we have greatly elevated our product offering and transformed from a pager replacement application to become a full incident alert management platform which we call OnPage 2.0. Our OnPage 2.0 platform combines the functionality of our smartphone-based alert engine with console-based escalation functionality and post-mortem reporting. With OnPage 2.0, we enable our customers to alert to phone, provide voice and image attachments and do in depth analysis of their on-call teams .
We have also transformed our product to include integrations with numerous third party technologies which enable us to bring critical alerting to many separate platforms. In the past year alone, we have developed new or enhance integrations with:
ServiceNow
Cisco Spark
Logz.io
ConnectWise Manage
ThingWorx
We have many more integrations planned for the months to come.
We look forward to continued expansion of our presence in IT, healthcare, IoT and the MSP field.  We know we will meet this goal because we continue to listen to our customers' needs and respond to them with improved technology offerings.  We look forward to continued growth of our technology and market penetration.
To celebrate our anniversary, we have a special offer of a 20% discount off when you purchase OnPage before the end of July. That's 20% off your purchase of the OnPage app, a Silver license or a Gold license. To get started, all you need to do is contact us.