Synced for Success: OnPage & Slack for Incident Response

As the post-pandemic world finds its footing again, a resilient spirit drives the revival, propelling businesses to embrace a new era of technological innovation. Notably, IT teams are swiftly adopting the digital transformation of their processes, particularly in incident response. From virtual collaboration tools and remote IT support to automated incident management, teams have found innovative ways to ensure seamless business continuity while delivering IT services with minimum downtimes.
Amidst this transformation, IT and software development teams have come to realize that physical co-location no longer is a necessity for successful and seamless service delivery. This newfound understanding has transcended to incident response as well, with response teams seeking flexibility to draw upon resources from diverse global locations, freeing themselves from the constraints of geographic limitations. 
As such, quickly resolving incidents with minimal resistance by utilizing cutting-edge tools and frameworks is what matters.
With the knowledge that these teams heavily use chat-based collaboration tools, such as Slack, OnPage has recognized a strong need to meet IT and tech teams where they are already present. With an emphasis on resolving incidents swiftly while minimizing context switching, OnPage enables seamless integration between its powerful incident alerting tool and Slack platform.
Resolving incidents before they affect businesses
The OnPage-Slack integration unleashes the potential of high-velocity tech teams and modern IT to effortlessly steer through incidents. With the integration, teams can effectively collaborate on incidents, and reliably assign critical tasks to on-call teams, ultimately speeding up the process of incident resolution and introducing unparalleled agility.
CEO Judit Sharon affirms, "Imagine harnessing the full array of OnPage benefits— alerting, on-call scheduling and post-incident reporting— seamlessly woven into your Slack experience! The new integration eliminates context switching across platforms, empowering teams with an unequivocal single source of truth on the application of their choice. Teams can oversee the end-to-end lifecycle of incidents in real-time within Slack, ensuring all incident-related information is managed seamlessly within the same workspace, fostering improved collaboration and mission-critical communication. Additionally, teams can swiftly engage and mobilize on-field technicians or incident responders by dispatching critical alerts to their phones from within Slack."
Try OnPage for FREE! Request an enterprise free trial.

Incident teams benefit from a wide range of robust capabilities, including sending critical messages between Slack and OnPage users seamlessly, acknowledging and responding to critical incidents from within Slack, and accessing the audit trail for a complete overview of the incident's progression.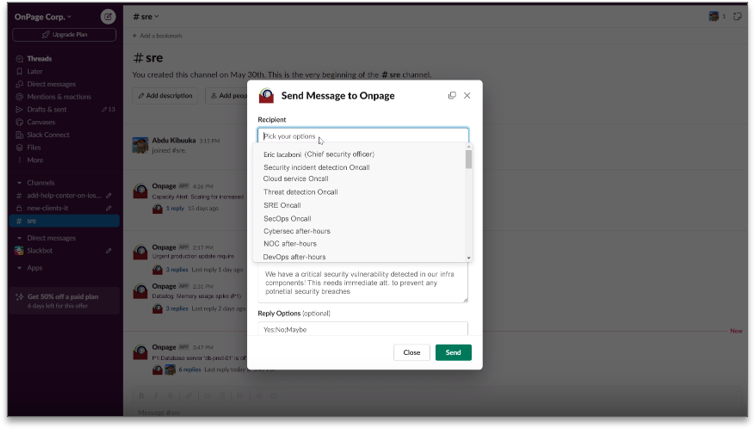 Setting up the integration is easy and effortless. The integration requires the account admin to authenticate OnPage users on Slack, followed by mapping OnPage channels or OnPage groups to corresponding channels and vice-versa.
All in all, we anticipate that the integration will gain popularity among IT teams, with software development teams, in particular, embracing it for seamless collaboration and streamlined development. Code issues dissolve instantaneously, with team members nimbly addressing them via Slack and seamlessly escalating them to the right service owners via OnPage. This seamless process is set to enhance efficiency and accelerate incident resolution, making it a valuable asset for software development teams leveraging Slack for their projects.
Conclusion
The integration between OnPage and Slack marks a significant leap forward in revolutionizing incident response for IT and tech teams. As businesses embrace rapid digitalization of their IT processes, the need for efficient and seamless collaboration becomes paramount. This integration offers a powerful solution, empowering teams to respond to incidents swiftly and effectively, without switching between platforms.