Vodafone sells their paging business – It's time to replace the pager!

Vodafone made news this week for selling its pager business to Capita making the latter the only  service provider for the much loved but antiquated pagers in Britain. Pager users are moving towards smartphones and the infrastructure supporting pagers is diminishing. It only makes sense to make the change now. OnPage is here to offer a solution!
The problem with pagers
Pagers present many problems but we shall focus on how they hinder the performance of users in the healthcare industry.
Radio waves used by pagers to send messages are sometimes blocked by the physical infrastructure of various buildings. These buildings can be places like shopping malls or even hospitals themselves. A lot of OnPage's customers are healthcare facilities with robust buildings that just refuses to let pagers receive a signal. In this environment OnPage has excelled; delivering pages using both WiFi and radio waves.
Additionally, pagers have a limited range. They are often meant to work in the hospital and can have difficulties penetrating a distance much beyond that. Doctors can easily find themselves out of range of the pager's ability to receive messages. OnPage, in its app and console form, can be accessed anywhere and you are guaranteed to never miss a page.
Pagers are inefficient. Once a doctor receives a message on a pager, they then need to move the conversation over to a cell phone. This workflow is burdensome for doctors who are often answering pages on the run. OnPage offers doctors two-way messaging that lets users attach images and voice attachments to enrich an alert and give the receiver of the page a better idea of the incident saving valuable time.
They are not persistent. If a page is missed, the doctor has no way of knowing that a patient is trying to contact them. With OnPage you have complete access to our intelligent Audit Trails that lets you track messages sent with OnPage from sender to receiver. If a message fails to get delivered we have fail-over procedures set in place so that you are immediately notified and can take action.
Pagers are not HIPAA compliant. Pagers are not encrypted devices and the information on them is not encrypted. This violates the statutes of HIPAA. OnPage is a 100% HIPAA-compliant
Pager facts according to the Ponemon institute and why OnPage is better: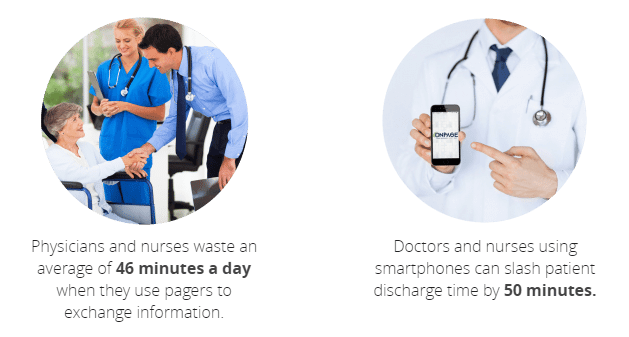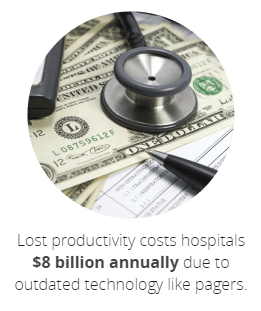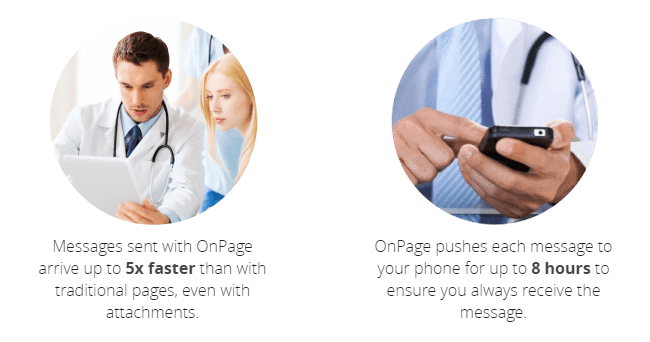 The pager service transition from Vodafone to Capita will affect only about approximately 1,000 people. This goes to show you that there is a growing trend of users needing alerting technology but not wanting to settle for legacy devices that don't offer adequate encryption, are unreliable when it comes to delivering critical messages and fail to offer a host of options that improve workflow and lets users track their messages. Pager usage is on the decline but the need to alert is still there. With fading pager infrastructure smartphone apps like OnPage are the way to go!  To learn more about our pager replacement solution click below.