OnPage and ServiceNow: Notification workflow
The OnPage Integration app allows customers of OnPage to integrate paging services with ServiceNow. Users can create rules for record values on TASK tables which are allowed by the application admin. The admin may also enable rules for the Incident Alert table. These rules are coupled with user-defined templates to generate notifications to users and groups in the external OnPage service. As an OnPage notification is moved through the delivery process, it will relay its progress to ServiceNow. This activity is recorded in the work notes by default but can be disabled or viewed as a related list. If an OnPage recipient responds to the notification, OnPage will relay the response to ServiceNow, which may cause actions on related records (as allowed by an administrator).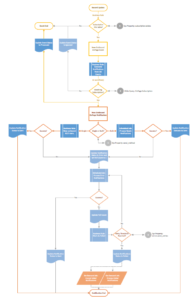 For details on how rules are applied to determine which person or groups should be notified, see the User Sync Workflow.
Get live support
To help you with the OnPage ServiceNow integration