OnPage Supports Veterans In PTSD Study

We at OnPage received an interesting request for Sarah Carter a 5th year Ph.D. in the clinical psychology program at George Mason. Her focus of study is on PTSD, stress, suicide, military couples and social support. Given the importance of Sarah's subject matter and the critical need for better mental health services in the Army, OnPage gave her and her colleagues pro bono licenses to the OnPage application.
The Situation
In this PTSD study, Sarah's goal was to better understand suicidality in soldiers by asking them to fill out a short Qualtrics survey on their computer every night for 2 weeks. If the responses on the survey correlate with a high propensity to suicidality, then Sarah or one of the three members of her team needed to be immediately paged.
However, Sarah was unable to find an affordable solution that enabled immediate paging as well as escalation to one of her colleagues for instances when she was not available. Enter OnPage; with OnPage's Critical Alert Management System alerts arrive five times faster than with traditional pagers. The benefits of OnPage are as follows:
Zero missed alerts
Escalation policy that lets you forward alerts through automation
Ease of use; OnPage in intuitive and has a user-friendly interface
Content of  the page is easy to view
Budget friendly
100% HIPAA compliant
The Importance of OnPage
During the course of the two weeks, they are enrolled in the study, servicemen and women need to answer questions in a Qualtrics survey every night about their emotional health. After answering the survey, Qualtrics will send an email to Sarah. Sarah needed to make sure that the emails are forwarded to her and can escalate if she is unable to respond.
Problem with pagers
Sarah found that 90's era pagers were expensive and had a significant downside. If Sarah used a pager and had one of her colleagues as a backup, she would have had to physically pass the pager to that individual.
Otherwise, she would have continually needed to be on-call. Given the importance of what she is doing, Sarah couldn't be unavailable for even a few hours.
According to Sarah:

With a typical pager, only I get the page and I am responsible 24/7.
Sarah needed to know that if she was treating another patient or unavailable for a consult for whatever reason, one of her colleagues would be able to receive the alert. Sarah wanted to be able to focus on the patient in front of her and allow pages to escalate.
OnPage Escalation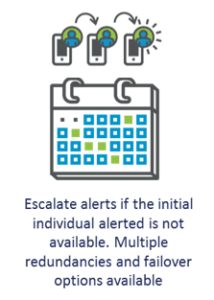 OnPage's integration with email enables messages sent by Qualtrics to be forwarded to Sarah's OnPage account. Previous OnPage studies have shown that emails are forwarded to OnPage in under 20 seconds* (see OnPage blog from 10.6.16, OnPage integration with Microsoft Outlook Email).
Yet Sarah looked to OnPage for more than just an ability to transform emails into immediate alerts on her smartphone. What Sarah needed was a tool that could also escalate alerts to her team.
I did a lot of research and OnPage was the only one like it I found
OnPage's escalation feature makes sure that if an incident is not acknowledged or resolved within a pre-determined amount of time, it will be escalated to the correct user.
Escalation allows Sarah to customize who will receive the alert, the amount of time to wait before escalating to the next user in her group and which user the alert should be escalated to.
 These capabilities were exactly what Sarah needed as traditional pagers options were expensive and didn't offer these abilities.
Impact on patients
Once Sarah or one of her colleagues receives the information suggesting that a service member might be considering suicide, they contact the service member immediately. Sarah is also working with the Veterans Crisis line which specializes in helping service members. Sarah wants to make sure that her team is taking care of soldiers in her study. As a PI, Sarah wants to make sure that when soldiers indicate feelings of suicidality, Sarah can respond.
OnPage is great. I am NEVER in a situation when a soldier indicates signs of suicidality and me or my team don't respond.
Conclusion
Sarah and her team are looking forward to better understanding the causes of suicidality in service members. They hope that by focusing on the impacts of relationships on mental health, they can provide better intervention to soldiers and their families and reduce suicides.
OnPage is proud to have been able to provide this pro bono service to Sarah and her team. We look forward to the research results of this PTSD study and are happy to support her team.
To learn more…