Message Forwarding: OnPage NEW Features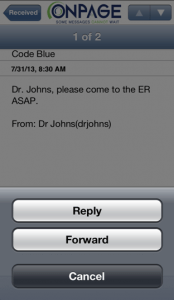 OnPage recently announced the release of an enhanced version of the OnPage pager application for iPhone and Android devices. The added new features headlined by message forwarding will provide users with strengthened security and reliability for their mobile communication needs. The new release will also provide greater flexibility and customization capabilities to meet the specific needs of its customers.
One of these new features is the ability for organizations to forward their messages onto other OnPage users or groups. The message forwarding feature will allow OnPage users to easily forward messages they receive to another OnPage user or group in case they are unavailable to respond, or someone else is more suitable to respond to the message. Message forwarding ultimately allows for messages to get to the right person at the right time, without the sender wasting time identifying and resending the message to that person.
To learn more about the new features of the OnPage app click here.