How to Ace Your First On-Call Rotation

If you are a new IT professional or manage a young team of IT staff, you know it too well how intimidating it is to be assigned to an on-call rotation for the first time. You might be asking yourself questions such as, "Will an outage or breach unfold? Will I sleep through an alert? Will I meet the SLA?" "Will I be able to handle the situation"
Don't worry: it's perfectly normal to be nervous ahead of your first on-call rotation and a sign that you understand the level of responsibility that comes with this new assignment.
As a leading provider of incident alert management systems, we have helped thousands of incident response teams establish effective on-call rotation schedules.
Based on the best practices we have seen from working with these top-performing on-call teams, we hope to provide you with some helpful advice ahead of your first on-call rotation. 
In this blog, we will be covering the following topics:
Confirming Your On-Call Responsibilities

Ensuring You Will Receive Alerts

Watching Your Tone – Alert Tones, That Is

Preparing to Request Further Help if Needed

Having Patience for Overreactions or False Alarms
Confirming Your On-Call Responsibilities and SLAs
If you're reading this blog, chances are you know that you are soon to be on-call for the very first time. Congratulations on this new responsibility and rite of passage!
Though you have likely been told when you are scheduled to be on-call, do you know what you're supposed to do during your on-call rotation? 
If not or if there's any ambiguity, you need to speak with your Team Lead as soon as possible. You must understand what your exact responsibilities are during the on-call time: full stop.
It's likely that your manager will have set SLAs (service level agreements) that articulate your performance in responding to incidents while you are on-call. Make sure you understand how the incident response metrics in your SLAs are calculated and then work toward meeting them. 
However, having a crystal-clear understanding of your on-call responsibilities is about more than just doing your job. 
It also saves you from setting counter-productive incident resolution efforts by doing redundant and toil work outside of your assigned responsibilities.
Try OnPage for FREE! Request an enterprise free trial.

Ensuring You Will Receive the Alerts
The messages you receive while on-call could come to your mobile device in a number of different forms depending on how your company has configured their incident alerting mechanism.
If the alerts are delivered through a dedicated application such as OnPage, you need to download the app and familiarize yourself with its settings and tones. 
Consult your account administrator and the app's user manual for FAQs and best practices, such as whether or not you can use these apps with connected devices such as smartwatches.
If your company is relying on emails, telephone calls, or SMS text messages to deliver critical alerts, you will need to turn off all of your mobile device's do-not-disturb and silent mode settings. 
When you miss an alert because you accidentally leave the silent switches or the DND mode on, you will be in a tight spot for not responding.
It's important to note that even if your company uses a dedicated app for alerting, they could have one or more of these more traditional messaging options set as an emergency failsafe option. 
"Do we have redundancies in place to deliver alerts if the app breaks down" is an astute question which will impress your Team Lead, even if the question factors in an edge case scenario. 
After all, apps like OnPage prioritize reliability, and are built on the premise that when other alerting channels fall through, these deliver alert reliably no matter what the situation is!
Furthermore, it is also important to establish the ways in which your incident manager will not message you so that you do not fall victim to a phishing or social engineering attempt during your on-call rotation.
Both leading up to your first on-call rotation and on an ongoing basis, you must keep the mobile device on which you will receive alerts updated to the most recent operating system (i.e. iOS, Android, etc.). 
If not, the alerting system might not perform optimally, and you could miss alerts entirely. 
Be sure your IT administrator has accurate records of which mobile device you are using for your on-calls and which version of operating system is on it. In the event of technical difficulties, this helps them expedite troubleshooting efforts in collaboration with the app's tech support team.
Try OnPage for FREE! Request an enterprise free trial.

Watching Your Tone – Alert Tones, That Is
Depending on the exact nature of your company's on-call rules, you may be allowed to engage in other tasks or during after-hours, even sleep during your on-call rotation. 
If this is the case, you need to select a distinctive and persistent alert tone that will grab your attention and wake you up from deep sleep when an emergent situation arises. 
If you are on-duty after hours and are required to wake up if an issue arises, be especially cognizant of whether or not the alert wakes you right away or if it blares repeatedly before you truly realize what's happening and step into action. 
You may have to change the alert tone every so often to fight your body's temptation to become de-sensitized to it.
While it may seem obvious, we recommend that you forewarn your partner or housemates that you will be receiving such alerts during sleep time and that they are critical for you to wake up and address. 
Now you may be wondering why we're making so much noise (no pun intended!) around alerting after hours.
As we all know too well, in today's digital world, delivering 24/7 continuous services is critical to staying competitive and retaining customers.
With this in mind, it is common for companies to compensate their on-call techs for their commitment to be available to address any issues that may crop up after office hours.
It should come as little surprise that a person's success in this role is partly determined by their ability to take accountability and respond promptly outside of regular business hours.
Undoubtedly, the consequences of not responding to on-call notification on time are significant and it's a natural human response to experience fear in such high-stakes situation.
Below, you can see how one such Redditor describes his anxiety from missing an important on-call notification. Unfortunately, for those with no access to an alerting app, this is a common experience and not an isolated occurrence.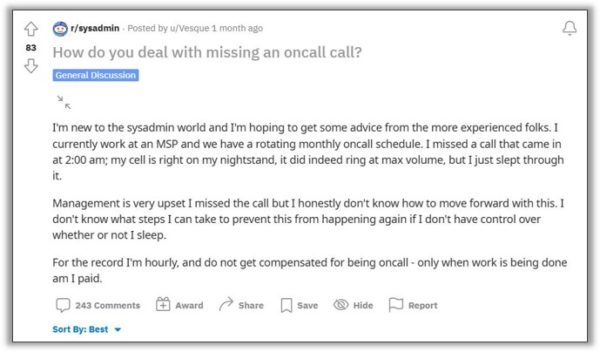 Preparing to Request Further Help when Needed
Though you have been tasked to be on-call, situations may unfold during your rotation which you cannot solve on your own. 
The question then becomes who to contact and by what means, especially during off-hours when the rest of your team is asleep. 
To avoid any panic or disturbance, ask your team lead to factor edge cases and establish a playbook before your on-call rotations begin. 
Having Patience for Overreactions or False Alarms
Your team's alerting systems should already be configured and fine-tuned from time-to-time to only deliver alerts for truly critical incidents, but it is quite possible that some lower priority, non-urgent incidents will come to you as critical alerts. 
Even if some incidents seem like they are a false alarm or an overreaction which could be left for later, it's still your responsibility to address them. 
That said, if such alerts are becoming a repeated disruption and distraction, you may want to discuss the alerting thresholds with your colleagues and administrators. 
Though not a guarantee, it's possible they agree with you that certain types of issues are not worth routing as high-priority alerts to the on-call team. 
You could end up saving yourself and your teammates from unnecessary alert fatigue: burnout and stress induced by too many alerts.
Conclusion:
As you prepare for your first-ever on-call rotation, we hope you found value in the guidance of this blog. 
You now know which questions you should be asking your team manager about your on-call responsibilities, and how you can ensure that your mobile device will wake you up.
Good luck with your first of many on-call rotations!