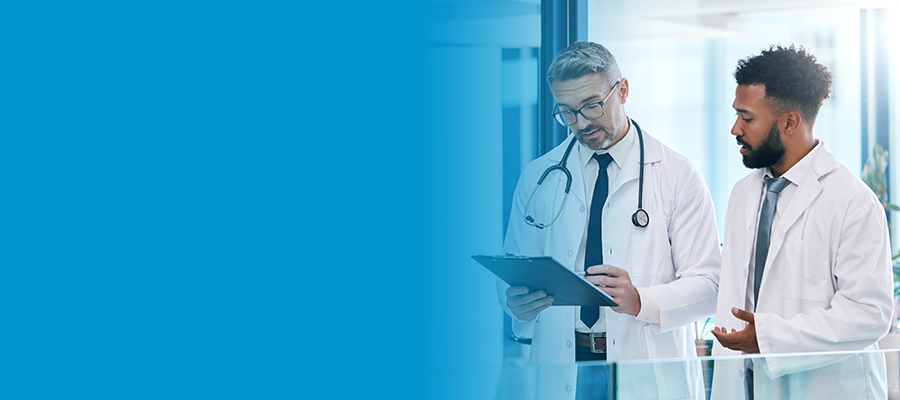 Guide to:
Effective
Clinical Communication
and Collaboration
Care providers know all too well how poor clinical communication and collaboration (CC&C) can affect patient outcomes, and cause confusion or frustration. So, the importance of effective CC&C does not need to be said. 
But, achieving successful CC&C is easier said than done, so this post acts as a guide for healthcare teams to strengthen their CC&C allowing them to accomplish improved patient outcomes and foster a culture of collective knowledge. 
What is Clinical Communication?
Clinical communication serves as the lifeblood that ensures the smooth flow of vital information, contributing to the safe and high-quality delivery of patient care.
Clinical communication encompasses a myriad of interactions—from physicians updating care teams to clinics transferring patient records—and extends beyond conventional methods to include cutting-edge technologies like secure messaging, voice, and critical alerts. Trust is paramount in this intricate process, where healthcare professionals rely on a robust clinical communication system to promptly share accurate data.
Effective clinical communication goes beyond methods; it's a two-way, structured, and continuous exchange that prioritizes timely, accurate, and tailored information transfer. From email to in-person huddles, its efficiency impacts patient outcomes, emphasizing the need for openness, honesty, and respect in fostering a collaborative healthcare environment.
Who's Involved in Clinical Communication?
Engaging in clinical communication is a collaborative effort that spans various roles within the healthcare landscape, whether confined within a single medical facility or extending across multiple sites. Individuals may include anyone who handles patient information, including physicians, nurses, case managers, transition coordinators, health information specialists, administrators, and department heads.
Each participant in this intricate web of communication bears the responsibility of ensuring that the information they convey is not only accurate but also concise, secure, and up-to-date. The stakes are high, as errors, oversights, or missed messages have far-reaching consequences for patients who depend on the seamless functioning of healthcare systems. Beyond the human impact, miscommunication extracts a toll on resources, both in terms of finances and valuable time and manpower.
According to CRICO's Strategies Comparative Benchmarking System analyzing 320,000 medical practice cases from over 400 hospitals in the US, it's been determined that 38% of general medicine cases, 34% of nursing cases and 26% of surgery cases involved a communication failure causing severe ramification on patient's well being.
Within this context, several typical clinical communication events illustrate the intricate nature of healthcare interactions:
Care-Team Collaboration: A significant portion of clinical communication unfolds among the physicians, nurses, and specialists involved in a patient's care. This includes sharing diagnoses, transferring charts during shift changes, and providing guidance relevant to the treatment plan.
Cross-Functional Team Collaboration: Patient transfers between departments necessitate effective communication to guarantee seamless transitions across the continuum of care and avoid oversights that could lead to adverse outcomes.
Coordinating Care Between Facilities: The transfer of a patient's information to another healthcare setting (primary care physican, in-patient rehabilitation hospital, palliative and hospice, or home care) constitutes a common healthcare communication event, highlighting the interdependence of healthcare communication across facilities.
Patient and Caregiver communication during discharge: Beyond professional interactions, clinical communication extends to exchanges between providers and patients. This includes providing post-surgical instructions, prescription information, and recommendations for follow-up care, with a focus on delivering easily understood advice to aid patients in managing their health.
Benefits to Clinical Communication
Most people know that CC&C is incredibly important, but do not know what strong communication actually does for a healthcare team. These are some of the benefits associated with strong CC&C:
Enhancing CC&C methods within healthcare teams can ensure that patient information is exchanged promptly and accurately. By improving these measures, care providers gain the ability to make informed decisions promptly, leading to improvements in quality of care and ensuring patient safety. 
Improved Care Coordination
By aligning objectives and leveraging communication technologies, care coordination is enhanced among healthcare teams. This improvement in the CC&C plan ensures quality care by reducing redundant efforts across care teams and enables them to appropriately address each aspect of the treatment plan. 
Streamlined Decision-Making
Many advancements in CC&C systems allow for real-time communication between healthcare professionals and health monitoring systems. This swift communication enables physicians to immediately make critical decisions regarding patient health and treatment plans, leading to more efficient and effective healthcare delivery.   
Facilitating Continuity of Care 
Strong CC&C is a driving factor for facilitating seamless patient transfers. As a result of these smooth transitions, patients who are transferred between specialists or facilities, receive an exceptional quality of care because of their well-informed physicians. 
Foster a Culture of Collective Knowledge 
When CC&C is enhanced, healthcare teams create a more transparent environment that enables knowledge sharing and learning from one another. The exchange of collective knowledge leads to better-informed decisions across all disciples, ultimately leading to improved healthcare delivery.
Barriers to Clinical Communication
Achieving effective CC&C looks different for every healthcare organization, considering the various barriers they may face. 
Here are some common barriers faced by healthcare organizations with limited CC&C plans:
Many healthcare teams are still using legacy technologies, like pagers, that hinder effective communication and minimize collaboration. It is important that healthcare organizations analyze their current communication methods, and adopt modern solutions that will ensure that they are using the best, quality communication methods for their team's success. 
Introducing alternatives to existing communication methods can present a challenge for healthcare teams that are accustomed to their traditional ways. So, teams must establish an effective approach to change management that will facilitate a seamless transition and minimize resistance, so that they can reap the benefits of strong CC&C.
There are a variety of reasons that healthcare organizations may have limited access to advanced communication resources. So, this emphasizes the need for the exploration of alternative communication technologies and practices that will effectively improve CC&C for teams with limited access to technologies.  
Poor Interprofessional Communication
Interdisciplinary communication is often a leading cause of poor communication due to various jargon used across different disciplines. So, to ensure seamless communication and collaboration teams must be trained to deliver clear, concise messages that can be widely understood. By promoting interprofessional collaboration, care teams can enhance their collaborative efforts and provide exceptional patient care.
One-Way Communication Channels
In the healthcare world, legacy technology often lacks the capability of seamless two-way communication. This impedes the success of care teams that require real-time collaboration while being physically apart. To enhance the effectiveness of care coordination, healthcare organizations must equip their teams with communication tools that allow two-way messaging. 
Best Practices to Facilitate Clinical Communication
When looking to enhance CC&C, these are some of the best practices your team should follow: 
Care teams who are collectively working with one patient, should conduct regular huddles – brief discussions about a patient's condition and treatment plan to ensure that the entire care team is on the same page. By having routine huddles, teams can enhance collaboration, thus reducing potential medical errors, improving patient satisfaction. 
Establish a Guide for Handoff Communication
Handoff communication is a crucial part of patient care and can be a major factor in a patient's health risks. Healthcare teams should establish a guide for handoff communications, to ensure the seamless transfer of sensitive patient information. This ensures that redundant efforts are reduced and accidental overdoses are avoided.
Eliminate Legacy Technology
As mentioned previously, legacy technology, like pagers, can lead to fragmented communication, which results in poor patient outcomes. Healthcare teams should eliminate any technologies that hinder their performance, so that they can start fresh and enhance their CC&C plan.  
Adopt Digital Solutions to Manual Processes
Healthcare teams continue to rely on paper schedules and contact sheets, making communication with other staff members incredibly difficult. By researching and adopting digital solutions, healthcare teams can alleviate stress and reduce response times, improving the quality of care.  
Keep Electronic Health Records (EHR) Updated
Teams must make sure that they are continuously updating EHRs, so that care teams receive real-time updates and can make immediate changes to treatment plans where they are necessary. Additionally, this facilitates a culture of collective knowledge, empowering care providers to share their expertise and collaborate with their teams for the patient's benefit. 
Analyzing Your Current Clinical Communications 
Creating a CC&C plan is not a one-and-done process, it is an ongoing process that requires continuous improvement. So, teams should routinely analyze their communication plans, and identify pain points that may require improvement. This allows healthcare teams to ensure that their CC&C plan remains effective as technologies and strategies evolve. 
These are some of the questions that should be taken into consideration when analyzing existing CC&C plans: 
Are the current workflows efficient?
There are often times when plans that worked in the past, may no longer be effective. So, when analyzing communication workflows, it is essential that teams are looking out for inefficiencies and bottlenecks that tend to arise as a result of the current CC&C plan. Eliminating inefficiencies during changing circumstances is vital for the success of care team coordination. 
What technology is currently being used?
Looking at the current communication technology and how it is being used is incredibly important to the CC&C plan. Teams must also see how often these technologies are actually being used to identify unnecessary costs and steps in the CC&C process. By removing unnecessary processes teams can optimize their resources to improve the effectiveness of their plan. 
Are there better alternatives to those technologies? 
Even if a tool is being used and generally works, it may not be the best option for a healthcare team. So, it is crucial that they look into alternatives that will better fit their needs and empower healthcare teams to provide the best care possible. 
When care teams collaborate, is it compliant with HIPAA?
Common communication tools used in healthcare settings include pagers and instant messaging. Unfortunately neither of these tools are HIPAA compliant, if used incorrectly, so teams must look for HIPAA compliant options that will allow them to deliver contextual messages that enable them to make informed decisions while complying with privacy regulations. 
Do the current tools seamlessly integrate with each other? 
Currently, there are many tools on the market that can integrate with each other and expedite processes. Teams should look into tools that integrate with each other to ensure the quick remediate of patient issues and changes to treatment plans. These tools foster a cohesive approach to healthcare delivery to ensure that patients receive the highest quality of care.
Are there effective training tools in place? 
When a new staff member is hired they must be well trained on the communication plans to ensure that information is seamlessly transferred between new and veteran staff. So, teams must assess their current training tools and ensure that new team members are adequately being trained on communication processes.
Does the healthcare staff have any feedback about the CC&C plan?
It is also important to know what the staff who actively utilizes the CC&C plan thinks about it. So, management teams must actively seek feedback about CC&C plans to ensure efficient workflows that will improve patient care and foster collective knowledge. Organizations can create optimal strategies that will elevate the quality of healthcare delivery when they value the feedback from active users. 
Making Improvements to the CC&C Plan
After analyzing the existing plan, healthcare teams must make all of the necessary improvements to ensure optimization of their CC&C plan, fostering enhancements in the quality of care. 
Some of the changes that healthcare teams may want to consider when improving their CC&C plan are: 
Establish Clear Communication Protocols
Establishing clear guidelines for care teams regarding the timing and methods of communicating critical patient information is essential to sustaining seamless workflows. Having set procedures allows for care teams to reduce the risk of miscommunication and ensures that they maintain shared objectives. 
Implement a Centralized Communication Platform
Healthcare teams require modern technology that will allow them to deliver two-way contextual messages so that they can achieve seamless communication among team members. With a centralized platform that streamlines communication, care teams can make sure that the right information is immediately transferred to the right recipient. 
As mentioned earlier, care teams should be conducting routine huddles to discuss updates about patient cases. By requiring regular meetings, collaboration is enhanced and enables care teams to share expertise and make collective decisions about patient care.
Standardizing Information Exchanges and Documentation
Without standardized protocols, healthcare teams risk losing important patient information and experience frequent miscommunications. Standardizing documentation increases the collective knowledge of care teams leading to well-informed insights that promote prompt decision-making during time-sensitive emergencies. 
Promote Continuous Improvement of Procedures and Protocols
Even after a CC&C plan is analyzed and improved, it is important that teams continuously monitor the processes and identify any inefficiencies that may arise. By promoting continuous improvement, teams will be able to maintain an effective communication plan. 
Navigating Change Management 
When changing CC&C processes to meet the ever-changing needs of patients and adapt to changes in technology, there are oftentimes where management faces resistance from care team members. Considering this, it is crucial for teams to establish an organized approach to change management. 
These are some of the key steps that must be taken into account when navigating change management for healthcare teams:
Clearly Define the Goals of the Change
It is important to clearly define the goals of changes that are being made to minimize internal pushback. When all involved team members are aware of the importance of the change, whether it be increased efficiency, standardization, or addressing other concerns, they are more likely to be receptive to the idea. 
Build a Change Management Team
A change management team should be assembled in order to effectively manage resistance. Representatives from different departments, who have a comprehensive understanding about the concerns of their team should be appointed. Having representation from varying teams will ensure a more streamlined acceptance and integration of the proposed changes.
Develop a Detailed Change Management Plan
Once the goals are defined and a change management team has been created, a plan should be made to ensure the smooth deployment of the CC&C plan adjustments. By breaking down the process into manageable steps, disruption will be minimized improving the chances of the successful adoption of new procedures and technologies. 
When implementing changes to the CC&C plan there must be comprehensive training in place to ensure that all of the staff knows how to follow new protocols or use new technology. Improper training can lead to increased resistance and can reduce the chances of successful adoption of the changes. 
It is also important to take staff feedback into consideration, so that any inefficiencies can be identified and eliminated in real-time. By accepting and valuing staff feedback, they will feel heard, significantly reducing their resistance to changes. This ensures the successful improvement of CC&C adjustments. 
Assess the Effectiveness of the Reformed Plan
Once all of the adjustments to the CC&C plan have been implemented, healthcare teams must conduct a thorough analysis of the effectiveness of the changes. By analyzing the changes, inefficiencies can immediately be identified and eradicated ensuring the success of the reformed CC&C plan. Additionally, it enables teams to gain insight into the strengths and weaknesses of the new plan, so that they can facilitate continuous improvement and refinement in the future. 
OnPage for Clinical Communication
OnPage is an innovative clinical communication and collaboration tool that empowers healthcare teams to seamlessly collaborate on patient cases, enabling them to improve patient care across the board. 
Some of OnPage's features that enhance CC&C are: 
HIPAA-Compliant Text Messaging
OnPage is encrypted, allowing for physicians to securely exchange contextual messages and include attachments without risking lost patient data. This will significantly improve CC&C enabling physicians to receive accurate information about emergencies and make prompt decisions without the hindrance of fragmented communication.  
With role-based messaging, care teams will be able to deliver the right information to the right person every time. They do not have to rummage through contact details or paper schedules in time-sensitive situations, the on-call specialist will be contacted immediately through OnPage with the push of a button enabling swift communication. 
Seamless Integrations with EHR Systems
OnPage seamlessly integrates with EHR systems, allowing care teams to receive EHR alerts right to their smartphones. With patient information right at their fingertips, care teams will be able to collaborate more effectively and promptly establish treatment plans.
Unlike pagers, OnPage allows for seamless two-way text messaging. This is essential to a CC&C plan ensuring that the entire healthcare team can effectively collaborate on a centralized platform, simplifying care coordination. 
Ability to Work on Wifi and Cellular Data
Many times, pages get lost due to limited ranges and connectivity issues, which is why the ability to work on Wifi and Cellular data is so important. Additionally, OnPage provides time stamped receipts that confirm that messages are being delivered and read, ensuring smooth clinical communications.