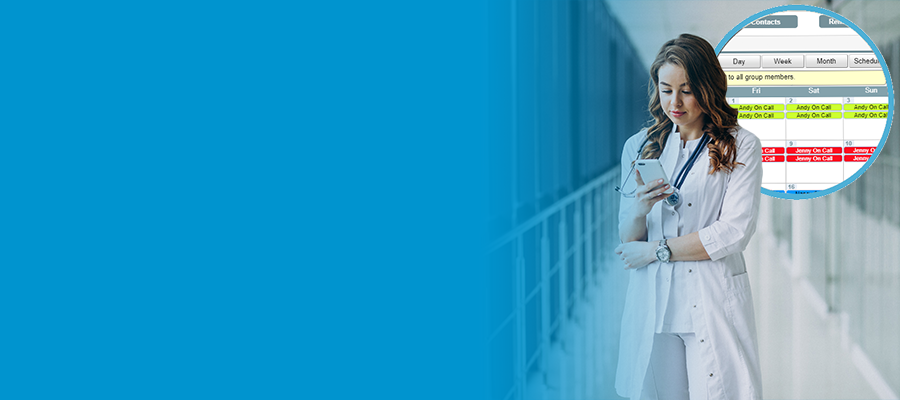 Guide to:
Facilitating Equitable
On-Call Management
The importance of effective on-call management cannot be overstated, especially in an industry where response times directly correlate to patient safety. 
Successful on-call management requires teams to make continuous efforts for improvement to ensure quick response to patient emergencies. So, this guide offers new healthcare professionals a comprehensive outline of what on-call is and best practices.
What is On-Call? 
On-call is a responsibility taken by healthcare professionals where they have to be available and respond to patient emergencies 0utside of their regular working hours. Depending on the hospital or job title, you may be required to stay on-site, stay within a certain radius of the hospital, or have the ability to go home until you are called into the hospital.
The hours that an individual is on-call may vary, but can include weekends, nights, and holidays. This is why effective, equitable on-call management is necessary to avoid poor employee satisfaction. 
Healthcare teams should also have an effective way to contact on-call staff when emergencies arise. Typically, these communication channels include pagers, phone calls, text messages, emails, or clinical communication systems. Many of these channels can create obstacles for healthcare teams both internally and legally, so the importance of effective communication will be explored later. 
Ultimately, on-call is a responsibility that requires healthcare professionals to be readily available to tend to time-sensitive patient issues.
Who Goes On-Call? 
Within a hospital there are many individuals that may be scheduled for on-call shifts including, physicians, medical residents, nurse practitioners, or specialists. Depending on your role there may be varying on-call responsibilities. But, the sole responsibility remains consistent – be ready to respond at any time during a scheduled on-call shift. 
What are the Responsibilities of Being On-Call?
In addition to always being ready to respond to patient emergencies, healthcare professionals have a variety of responsibilities when on-call. 
Just a few of these responsibilities include: 
When an on-call professional is called to an emergency, they must quickly triage the situation. This includes determining the urgency and severity of the crisis and deciding on the appropriate level of care. In cases where a patient is having a severe emergency, it may be best to escalate the issue and call in a more specialized doctor. Triaging is crucial to ensuring that patient issues are handled with the most effective care possible for their circumstances.
Facilitating effective handoff
It is common that there may be multiple on-call shifts over a weekend or night, so care providers must partake in a handoff exchange. Handoffs include exchanging information about a patient's diagnosis and treatment so that the next on-call individual is equipped with all of the relevant information that will allow for the best quality of care. This may include verbally telling the following doctor the information, having a handwritten record of the information, or inputting the relevant information into an electronic health record (EHR) system.
During patient emergencies on-call care providers must act fast, so the ability to effectively make decisions is crucial. Many times you will have to prescribe medications or send patients into emergency surgery, so the ability to apply medical knowledge during a time-sensitive crisis is a vital aspect to being on-call and ensuring patient safety. 
Documentation is essential to further patient care, after you have dealt with a patient emergency. On-call staff must record vital information including diagnosis, medications, allergies, or any changes in the patient's condition, to avoid medical mishaps. Nurses and other future caretakers will be able to look back at this information to take appropriate measures during recovery and follow-up appointments. 
Importance of On-Call Responsibilities
These responsibilities are incredibly important when it comes to patient health and safety. The unpredictability of illness or injury emphasizes the need for the continuous care that on-call provides. When there is an emergency, patients can receive the care they need almost immediately without relocating to another hospital or waiting for a specialist's shift to start. So, at the end of the day, on-call care providers are vital to creating seamless hospital workflows that prioritize quality patient care.
How to Prepare for Being On-Call 
Before your first on-call shift you must sufficiently prepare to be on-call. Some of the common ways to prepare are:
Healthcare teams will have varying protocols and procedures that care providers must follow during an on-call shift. So, before going on-call, you must familiarize yourself with these policies to ensure that your actions align with the goals and objectives of the hospital. 
Get equipped with the right technologies
When it is necessary to call a doctor in, there are various ways that a hospital could get in touch with them ranging from phone calls or texts to pagers or clinical communication systems. So, when you get added to the on-call rotation, you must make sure that you are equipped with the correct tools to receive notifications about emergencies. This may include downloading applications, distributing your contact information, or obtaining a pager. 
Know the on-call schedule
Before going on-call it is crucial that you know exactly when your shift begins and ensure that you are following the protocols correctly. You may have to commute to the hospital, log into the necessary applications, and do a handoff exchange with the preceding on-call person. Similarly, when your shift is over, you must also be prepared to facilitate the handoff to the next on-call individual. So, it is crucial to know the on-call schedule to ensure seamless handoff and to align yourself with the protocols of the hospital.
Remain up-to-date on clinical knowledge
As healthcare procedures evolve, on-call professionals must stay up-to-date. By remaining knowledgeable about advancements in the industry, on-call physicians can make quick, informed decisions about patient care. 
Adopting an on-call shift is a large change from working your scheduled hours, so it is important to practice time management to avoid burnout. You may also want to adjust your sleep schedule to align with your on-call responsibilities to ensure that you are able to get sufficient sleep during longer on-call shifts.
What Does Effective On-Call Communication Look Like?
While many healthcare teams use pager technology, they are not the only – or best – option for on-call communication. There are many times that pagers are ineffective in waking up sleeping physicians or pages start to get lost all together. They are also unencrypted and can easily be hacked, making them not HIPAA-compliant, unless physicians are exchanging brief unidentifiable patient information. 
These problems can be even worse with tools like text messaging and email because many people are constantly receiving uniform mobile notifications, desensitizing them to notifications, resulting in missed emergencies. 
It is unacceptable for healthcare professionals to be subject to ineffective technologies that can ultimately put patient safety at risk, which is why clinical communication systems are recommended. 
Clinical communication systems allow healthcare professionals to receive time-sensitive, distinguishable alarms that can bypass the silent switch in a centralized mobile application. This ensures that on-call team members can effectively wake up and know exactly when a notification is urgent due to loud, distinguishable notification noises. And, these applications are typically encrypted allowing teams to exchange contextual messages that allow them to begin making medical decisions immediately. 
Healthcare teams must employ a communication method that is right for them, while simultaneously reducing inefficiencies and remaining HIPAA-compliant. 
How to Facilitate Equitable On-Call Rotations
When creating on-call rotations it is incredibly important that the scheduling staff takes on-call care providers' needs into consideration. Hospitals should be prioritizing these tips to ensure an even distribution of the on-call duties of healthcare providers: 
When discussing changes or adjustments in the on-call rotations, there should be clear communication to the on-call staff. This ensures that everyone is aware of changes allowing them to fully understand their responsibilities and the equitability of the schedule.
Scheduling staff must take the team's availability into account when creating an on-call rotation because many times, individuals have commitments outside of work that prevent them from being available after hours or on certain days. Also, their workload during regular hours should be considered when they may have numerous patients or more complex cases. 
There may be times when a physician is experiencing burnout, and would be unproductive during an on-call shift, due to fatigue. They should be encouraged to speak up, and if possible, shift switches could be made to allow them to rest. This ultimately, can help to enhance both job satisfaction and patient satisfaction.  
The scheduling staff should conduct routine reviews of on-call schedules to avoid any accidental unfairness. There may be instances where someone seems to be covering multiple shifts causing them to hold a larger portion of the workload. This should be recorded and the staff should look for alternative improvements to ensure the equal distribution of on-call shifts. 
Invest in Scheduling Software
Hospitals that still use pen and paper can run into many problems with on-call schedules. They can lose schedules, resulting in lost documentation, or forget to write-in shift changes, causing miscommunications and delayed response. This can cause stress, which leads to burnout decreasing hospital staff productivity. Scheduling software is easy to use, accessible, acts as valuable documentation, and always presents the most updated schedule. 
How to Recognize Alarm Fatigue
With ineffective clinical communication processes, healthcare providers may begin to experience alarm fatigue – desensitization to alarms produced in a medical setting that can lead to an increased number of missed notifications, which results in risked patient safety. 
So these are some of the ways to identify alarm fatigue: 
Increased Number of Unactionable Alarms
When you are receiving alarms that are uncategorized, it is almost impossible to determine whether they are critical or not and this may create alarm fatigue. Many times alarms are triggered by events that are unactionable, causing fatigue because you are constantly hearing alarms that do not need immediate response when you are on-call. 
Alarm fatigue can make you want to delay response because of the likely possibility that the alarms you receive are unactionable. This is very dangerous to patient safety, because in the event where there is an emergency, delaying your on-call duties can result in adverse effects.
If you find yourself wanting to deactivate your applications or turn off your pager, you may be experiencing alarm fatigue. While this may create temporary relief from the noise, this is an unacceptable practice. Turning off alarms could result in missing critical emergencies that may put patients at risk. 
Job Dissatisfaction and Stress
Feeling dissatisfied with your job or experiencing extreme stress can indicate alarm fatigue. Communicating this to management is crucial, so that they can temporarily adjust the on-call schedule to allow you time to rest.
Overcome Alarm Fatigue
In addition to the previously mentioned points, clinical communication systems are an effective communication tool that can help healthcare teams overcome alarm fatigue. They typically have the ability to prioritize alarms, ensuring that only actionable alarms are delivered to on-call staff. This reduces alarm fatigue by decreasing the number of alarms delivered, and allows on-call staff to rest when they are not needed for immediate response. 
On-Call Best Practices
These are the best practices for on-call management: 
Adopt a Digital Scheduling Software
Utilizing digital scheduling software is a great way to ensure the equitable distribution of on-call shifts and avoid frustrations with paper schedules. They also ensure quick response to patient emergencies, because nurse practitioners will always know exactly who is on-call and can immediately get in touch with the right care providers.
Role-Based Messaging Solutions
Role-based messaging solutions further speed up the response process. Within clinical communication systems, nurses will have the ability to page specific roles, to ensure that they get in contact with the right care provider without needing to shuffle through papers looking for their personal contact information.
Equally Rotate On-Call Duties
Creating a reliable and equitable rotation of on-call duties is essential to the success and satisfaction of on-call care providers. Scheduling staff must ensure that no one physician is taking on an excess workload. This will prevent the appearance of alarm fatigue as well. 
Discussing availability with on-call workers is another practice that will maintain employee satisfaction. If care providers feel that their needs are being heard and met, this will facilitate a satisfied workplace empowering productivity and transparency. 
Invest in Effective Communication Technologies
It is important that healthcare teams research tools that will enhance on-call management and reduce response times. Some common tools that alleviate the stress of on-call teams are clinical communication systems, EHR systems, and, again, digital scheduling solutions.
OnPage as a Solution
OnPage is an innovative clinical communication tool that empowers on-call care providers to effectively manage their on-call duties while avoiding alarm fatigue. Some of OnPage's features that improve on-call are: 
OnPage allows teams to prioritize notifications, so when an alarm is triggered, it only delivers alarms for actionable emergencies to on-call staff. This allows for teams to reduce alarm fatigue and creates for more effective on-call management. 
Loud, Audible Alarms that Wake Up Care Providers
When care providers are on-call it is typical to sleep between emergencies. OnPage provides loud alarms that can bypass the silent switch ensuring that no patient emergency goes unresponded t0. 
Digital Fail-Safe Scheduler
This clinical communication system has a built-in scheduler that allows teams to immediately call in the right on-call care providers. Additionally, in the unlikely event where a misconfiguration was made in the schedule or a care provider misses a notification, OnPage will automatically escalate the emergency to another care provider to ensure that all patient issues are resolved. 
HIPAA-Compliant Text Messaging
Pagers, and other legacy communication methods are unencrypted, preventing nurses from delivering contextual messages about patient emergencies. OnPage's encrypted messages allow nurses to deliver contextual patient information to on-call care providers that can even include attachments, while ensuring HIPAA compliance. 
Conclusion
Ensuring effective on-call management is crucial in healthcare settings because quick response can ensure patient safety. By following the best practices in this guide, you can make sure that you are successfully managing your on-call priorities.