OnPage introduces ServiceNow Integration 
ServiceNow IT Service Management
ServiceNow ITSM software gives you a powerful platform for managing ITIL processes, helping you to rapidly reduce costs, lower risk, improve business agility, and boost IT innovation. And since it's built on an enterprise IT cloud platform, no infrastructure is required. ServiceNow ITSM is available to companies of all sizes.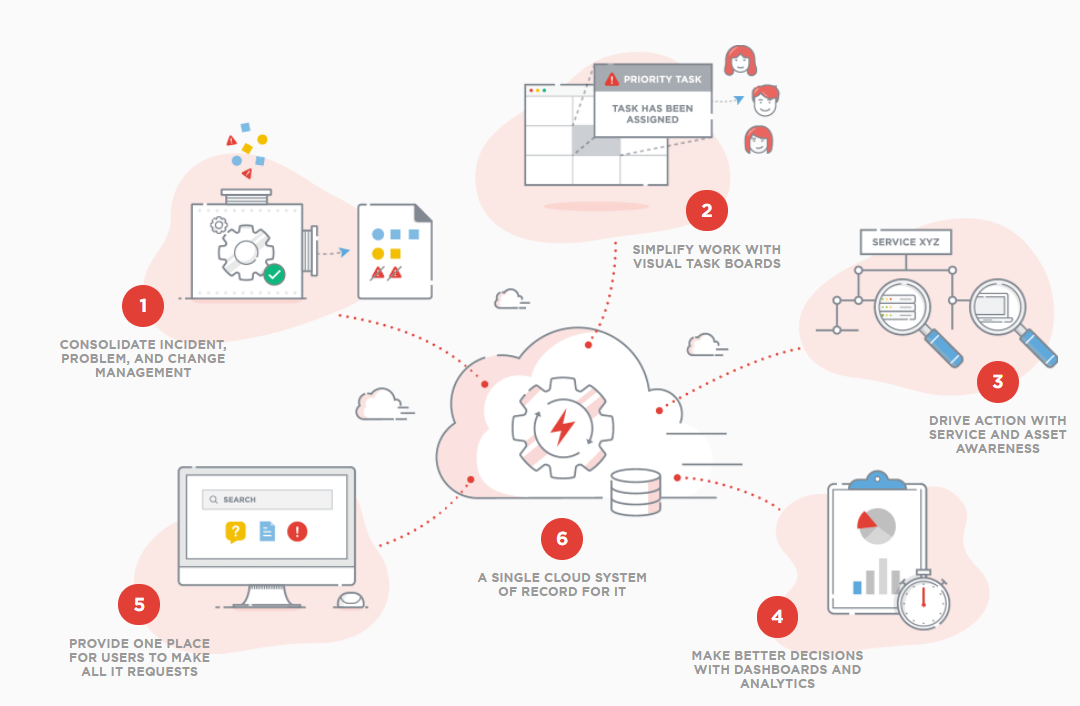 ServiceNow: Deliver IT Service Management on a Single, Cloud-Based Platform
With the OnPage ServiceNow Integration take control of difficult legacy processes and tools with ServiceNow software. With this solution, your new service desk is up and running fast with built‑in ITIL best practices and guided setup. An easy‑to‑use service portal makes it painless for end users to submit and track requests without making a call. Prioritize and assign work with drag‑and‑drop Visual Task Boards. Gain control with complete IT service visibility, no infrastructure required. The addition of OnPage brings critical alerting workflows to ITSM.
OnPage and ServiceNow Integration
OnPage uses the Webhook API to integrate with any third level service. ServiceNow has an Outbound REST Messages API that can be used to integrate OnPage and ServiceNow.
Outbound REST Messages API finally generates the script that can be used with Business Rules, Script Includes, Script Actions and Background Scripts which means that any event in ServiceNow can be sent to OnPage.
The OnPage Smart Alerting Engine allows you to consolidate alerts from ServiceNow to your smartphone in the form of text alerts with attachments. The alert is a persistent ringtone that goes on for 8 hours until the alert message is acknowledged. The Alert Engine allows for message redundancy and alerting across communication channels.
Take a look at how you can set up the OnPage ServiceNow Integration
OnPage enables further automation through its Incident Alert Management Platform
The Incident Alert Management Platform ensure messages automatically get to the right person at the right time. Audit-trail included. No more checking schedules and manually sending messages. Just schedule the right people on-call and OnPage does the rest.
Schedule on-call personnel
Create escalation policies to ensure critical-messaging continues to escalate until read
Unsuccessful escalations will generate a fail-over report that is sent to a predefined manager.
Let's look at the various facets of OnPage that allows you take control of the alerting process.
On-Call Scheduler
OnPage users with access to the web-based console have an intuitive, flexible and easy-to-use on-call scheduler that is able to handle the most complex employee, team and group calendar configurations. OnPage lets you put users into schedules. Put members of your team in groups, adjust their escalation order and create group schedules that let you further automate the alerting process by overriding escalation order for unique scenarios or at certain days of the week or times of the day.
Escalation Policy
Those who need to receive alerts are put in 1 escalation group. The order in which the people are alerted can be adjusted. Set Escalation Interval and Escalation Factor to determine how the escalation policy behaves. OnPage's Escalation Policy makes sure that if an incident is not acknowledged or resolved within a pre-determined amount of time, it will be escalated to the correct user(s). You can customize who you want to receive the alert, the amount of time to wait before escalating to the next user(s), and which user(s) the alert should be escalated to.
Secure Alerting and Messaging
OnPage is not just a pager app, your team has the ability to send and receive messages which include images and voice attachments to enrich the message. All of this is completely secure.
OnPage secure messaging works wherever you have cellular or wireless (Wi-Fi) coverage.
High and Low Priority Messaging
Once your team gets notified they have the option to request for more help through the OnPage platform which enables the user to send messages in two different formats: High Priority and Low Priority. Our unique ringtones and persistent alerts ensure users that their messages rise above the clutter.
Audit trails, Failovers and Reporting
Know exactly when a message is read with full audit trails and message logs. In the event a message is sent to an escalation group and does not reach anyone in the escalation group, OnPage offers the options: Failover To OnPage ID's and Escalation Failover Report which ensures accountability. Our Reporting Engine allows you to compile real-time data to gain insights into alert volume and employee workloads.
To learn more about OnPage or the ServiceNow integration Contact US. Request a demo of this integration using the form below: