Opsview 5.0 IT Monitoring System Incorporates OnPage Secure Alerts.

OnPage Integration with Opsview Monitor 5.
OnPage provides Opsview users with Secure Intelligent Round Trip Messaging integrated with Opsview Monitor 5.0.
Opsview users can now leverage the OnPage cloud-based platform to provide secure, reliable, round-trip IT Alerting for critical notifications that should never be trusted to email or SMS. Opsview users can designate OnPage as the preferred alerting method based upon the critical nature of tickets or events.
With OnPage's robust scheduling, audit trail, escalation rules and fail-over options, Opsview users can be assured that their critical messages are not only sent, but received and acted upon.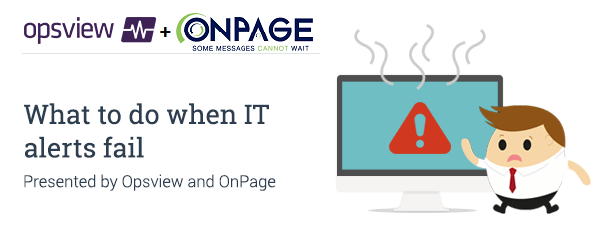 Amazing solutions exist today for IT monitoring. 
These tools empower IT teams with unprecedented and timely knowledge of what is happening across their IT environments, which is becoming more and more crucial as IT continues to become increasingly important and complex.
However, when it comes time to act upon that information, too many companies rely on archaic, failure-prone technologies like email and SMS. Outbound only, these notifications lack the round-trip feedback that assures a timely response to critical alerts, which can cause critical application outages. And at an average of $74,000 an hour for the cost of downtime, outages can be very costly to any business.
The key to fixing these types of IT obstacles is being well-informed via easy-to-use monitoring/management tools, which is why Opsview and OnPage have partnered to provide the industry's most advanced combination of IT Monitoring and Priority IT Alerting.
The high costs of "lost" notifications: One crucial message getting lost in the mix of your organizational platforms can lead to disastrous results. Our webinar will explain the high costs that come with an unreliable notification system, and how Opsview and OnPage are teaming up to prevent this type of miscommunication.   
Why relying on SMS and Email is a huge risk: While we are all used to the e-mail and SMS methods of communicating, the fact remains that relying on them is quite risky when it comes to your large-scale business practices. Rather than leave

your IT systems up to chance, attending our webinar will arm you with facts that prove SMS and e-mail leave your environment vulnerable when putting too much pressure on them to safeguard your communications.

Learn about OnPage: Learn more about the leading edge critical IT Alerting capabilities of OnPage, who allow everyone from healthcare providers to IT professionals to be efficient and accountable. Ensuring that critical messages are always received via its cloud-based, scalable system, the OnPage service enables enterprises to be in total control of the entire organization's priority communications easily and reliably.
The power of Opsview and OnPage working together: Opsview and OnPage work together to deliver an industry leading combination of IT Monitoring and Priority IT Alerting.
OnPage is The World's Most Advanced Priority Messaging & Paging Solution.