OnPage's Updates Make Messages Safer and Easier to Deliver Than Ever Before

Professionals in IT, healthcare and managed services look to OnPage to enable them to exchange critical messages in a safe and secure manner. These same professionals also expect that in the heat of an incident, they will be able to exchange messages immediately with colleagues and know if their colleagues are logged in and available to assist them. With those precepts in mind, OnPage realized the importance of introducing its most recent features focused on increased security and presence information.
Improving security
This week, OnPage introduced its version 5.2.0 for the iPhone and 3.5.0 for the Android. The updates present the user with greater ability to control the security of the OnPage application and thus greater ability to keep the content of messages secure.  With the new release, new users will:
Need to increase password length to 8-25 characters
Instantly be logged out after five failed log-ins
OnPage recognizes that using longer passwords lowers the overall risk of a security breach. By using more characters, a password inevitably has more uncertainty behind it and makes it more difficult to crack. Additionally, by logging people out after five failed attempts, OnPage limits the ability of unauthorized users to guess the actual user's password. Together, these two security features provide the app with greater ability to prevent breaches.
Empowering Incident Responders
OnPage's latest updates also importantly provides users of the app to mirror the presence information found on the console. Formerly, only the administrator or individuals with access to the console were able to see whether colleagues were logged in to the app or logged out. This lack of ability to see presence information on the app hindered users in the field from having access to this information. They couldn't be sure if their colleagues were available.
Now, users do not need to waste time in knowing their colleagues' status as they can immediately see if the colleague is logged in.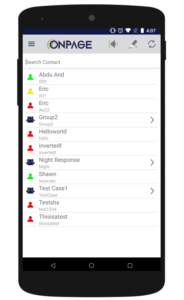 Green icon: User is logged in and available for messaging and alerting
Red icon: User is signed out and unavailable
Yellow icon: User is signed in but their pager is off
Black icon: Group icon
With this knowledge a physician, IT professional or MSP can immediately reach out to their colleague or work group to resolve an important issue.
Inevitably the goal is to minimize response time and resolve issues as quickly as possible. In IT, MSP and healthcare, rapid response is paramount. This new feature aids in that lofty goal.
Accessing new features and its benefits
Current OnPage users do not need to update their app or operating system to access these new features. These features are automatically updated to the user's smartphone.  Users will instantly have access to the improved security and workflow without having to even push a button.
If users are unsure about using the new features or have any questions about how the features will impact their workflow they are encouraged to contact the OnPage Support Team.
Conclusion
OnPage's updates for the iPhone and Android app will significantly improve the end-user experience. Users will now have greater security and functionality at their fingertips in addition to improved workflow.
Let us walk you through OnPage's updates! Schedule a demo.