OnPage Supports Teleneurology through Telemedicine Pager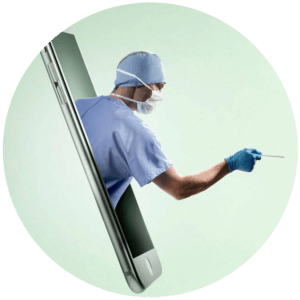 SAGE NeuroHospitalist is a privately held California-based company that provides rural clinics with neurological services through telemedicine. SAGE currently employs 15 physicians and works with 30 hospitals in small towns in California, Arizona, and Nevada. They provide coverage to rural hospitals in their network 24/7, 365 days per year. Adopting our clinical communications app for use as a telemedicine pager, SAGE is an OnPage power user and we want to tell their story.
Inefficient paging process and response delays
SAGE went through a convoluted process when trying to connect a patient with a neurologist. Before OnPage, SAGE went through the following steps:
A patient comes to a rural hospital in need of neurological care.
A doctor or nurse at the rural hospital would contact the SAGE administrator
The administrator at SAGE would jot down the rural hospital's information and page the neurologist with this information
If the SAGE neurologist was available, he or she would answer the page and contact the rural hospital.
If the neurologist was busy with another patient, they either didn't respond to the page or would call back the SAGE administrator with instructions on how to respond to the hospital's request
The whole process could take as long as 20 minutes from the time a rural hospital contacted SAGE until a neurologist contacted the rural hospital. This wasted valuable time.
Missing pages and lack of automation
SAGE neurologists had difficult with pagers as well. To begin with;
Pages were lost and there was no infrastructure in place to track pages.
Delays in responding to received pages were a regular occurrence with no system in place to forward the page to another SAGE neurologist
SAGE experienced pager connectivity and range issues.
Solution: OnPage's HIPAA compliant alerting and teleneurology paging!
Currently, SAGE uses the ability provided by OnPage to enable clinics to reach neurologists with an immediate and prominent alert while also providing escalation. SAGE saw significant improvements after implementing OnPage as a telemedicine pager:
SAGE has not experienced missed pages ever since implementing OnPage.
Pages lost due to connectivity and range issues are no longer a problem as OnPage works with Wifi.
Page escalation is now an automated process. If the first SAGE neurologist is not able to respond to an alert, the page is automatically forwarded to the next neurologist on-call.
SAGE is now able to guarantee their clients a response in under 5 minutes although 95% of responses occur in one minute or less. 
All pages are tracked through OnPage's Audit Trail. Increasing the accountability of SAGE's service.
All of the pages are attended to within the first two escalations which means patients receive care faster.
The automation of alerts and improved workflow resulting from OnPage has increased SAGE's growth by 700%!
Improving business process through OnPage reporting
At SAGE's central headquarters the company's Operations Administrator, Melinda Chiem, keeps track of the call volume, response time and any delays that occur. She receives this information through OnPage's reporting system which allows her to also create graphs to physically represent the progress of the company's neurologists in meeting the needs of the hospitals. The reporting also allows SAGE to better analyze and forecast the clinics' needs.
To learn more about our solution…