OnPage Continuous Messaging for 2015
OnPage Priority Messaging announced the release, on Jan 29, 2015, of OnPage for 2015, a major new update that represents an evolution in mobile communications and  addresses customer requests for expanded features, capabilities, and settings in areas ranging from back and forth continuous messaging, on-call scheduling management, secure priority messaging, and notifications. OnPage for 2015  is the first in the communications industry to integrate High Priority Secure Messaging and Low Priority Secure Messaging (which includes continuous messaging) all-in-one-app.
Continuous Messaging, enabling recipients to reply to a sender, was a part of the first release of OnPage. But now replies are marked, so both sender and receiver know their message is part of a back and forth conversation. Quickly communicate during disruptive events and — Make More Informed Decisions.
Continuous Messaging – Now with Reply-to-Reply
OnPage's Continuous Messaging works the same way as a reply to an email — each reply appears as a new message and you can see what you are replying to. But there is one big difference — OnPage is SECURE!
OnPage replies are marked as a reply, so both recipient and the sender are aware that a reply message is part of an ongoing back and forth  conversation.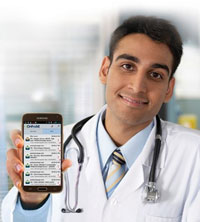 Healthcare professional were using two different applications to communicate – one for alerts and the other for casual conversations about a patient's condition. OnPage has now unified both types of communications into one convenient application – offering time-sensitive alerting with attachments and back and forth continuous messaging in a HIPAA secure environment.
Total Control in a Secure Environment
OnPage for 2015 now offers users greater flexibility and a host of new convenient features to fit their secure messaging and pager replacement needs all in one application.