HIPAA Challenges for 2018

The Office for Civil Rights (OCR) is the department within the Department of Health and Human Services that is tasked with enforcing HIPAA and in meting out fines or citations for violations. Given the organization's importance in adjudicating HIPAA fines, healthcare organizations are highly interested in knowing what changes the OCR might offer in their pursuits and definitions for 2018.
Given the impending budget cutbacks in Washington, the first question that needs to be asked is if the OCR's ability to enforce HIPAA fines will be diminished. What will be the OCR's focus going forward? Will they look to further enforce the use of HIPAA secure messaging? How can organizations get ahead of the game and improve their adherence to legislation?]
HIPAA Challenges for 2018
Recent information on HIPAA compliance has shown that many institutions are having trouble "following the rules".
In late 2017, OCR reported on the HIPAA compliant status of over 100 healthcare institutions. Institutions were given a rating from 1 to 5 for based on the completeness of their compliance efforts. A rating of 1 signified full compliance and 5 indicated that the covered entity had demonstrated limited to no attempts at compliance.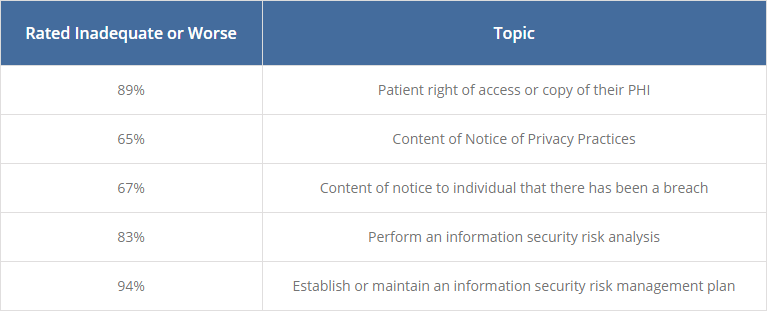 Courtesy of cynergistek.com
Given these ratings, there's much work to be done.
While all of the items listed in the chart above should present concern to the risk-conscious healthcare employees, it seems most concerning that organizations have neither performed a security risk analysis nor established a program detailing how they will manage risk. Healthcare organizations should be more aware of HIPAA compliant pitfalls they should avoid.
These include actions such as:
texting patient information
loss or theft of devices such as smartphones
exchange of patient information
These present some of the most significant challenges to meeting HIPAA compliance. Early reports indicate that the coming year will not show a respite from these HIPAA challenges and healthcare institutions should not let down their guard lest they are audited. Healthcare organizations should prepare themselves to report even the smallest of potential breaches in order to avoid fines.
Enforcement in 2018
Indications show that the OCR will receive less funding ($6.19 MM reduction) from the government in the upcoming year. In short, this means fewer employees at the helm and thus less enforcement. Some of the shortfalls in federal funding will be backfilled by settlements via the OCR's HIPAA enforcement activities.
Some of the work not addressed at a federal level might be taken up by state attorneys general that are focused on protecting the privacy concerns of local citizens. This is supported by the fact that the HITECH Act gave state attorneys general the authority to pursue financial penalties for HIPAA violations and assist OCR with the enforcement of HIPAA Rules.
However, decreased federal funding does not mean less active enforcement. Organizations still need to concern themselves with how to avoid a HIPAA fine. The OCR's current head Roger Severino is in favor of pursuing legal action in order to further the organization's agenda.
OCR envisions continuing to shift its work from "routine investigations" to "larger, more complex work that impacts a broader audience." One should assume that with Severino at the head, the organization will be on the lookout for breaches and litigate them to the extent possible.
Safeguarding PHI on portable devices
Given the backdrop of pursuing more complex investigations, it is still not clear what will precipitate the HIPAA breach which draws out the OCR's interest.  But by looking at the landscape it becomes clear that one of the main activities that will present a challenge to HIPAA compliance is safeguarding of PHI on portable devices. OCR's 2017 HIPAA enforcement activities have shown that this was a key area of interest based on entities failing to comply with HIPAA rules in this area.
Conclusion
Going forward, it is unclear how the pursuit of HIPAA fines will play out although Severino does show an increased appetite for pursuing cases. Given this uncertainty, healthcare organizations should do their best to audit their existing practices and train their employees to become more HIPAA compliant.