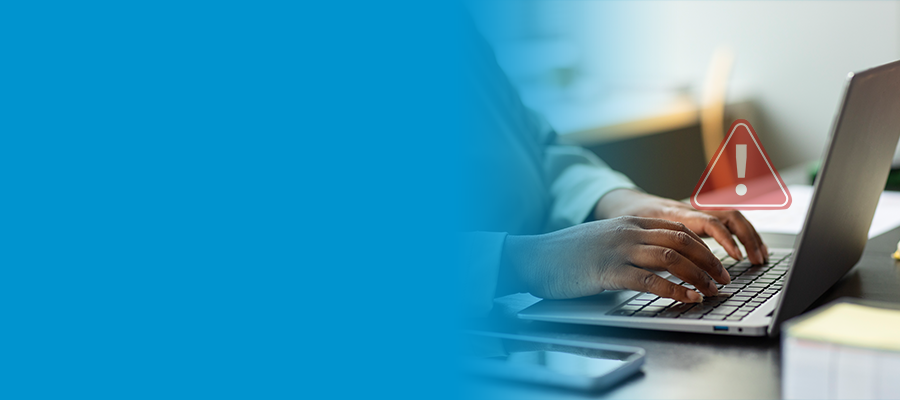 Guide to:
Successful
Incident Management
Business interruptions are almost inevitable from Wi-Fi connectivity issues to natural disasters, and without proper preparedness these disruptions can pose significant difficulties to an organization's effectiveness and reputation. 
In the event of these frustrating incidents, teams must have advanced technologies and strategies in place to mitigate potential impacts. So, in this guide we offer effective strategies, tips, and solutions, so that your team can successfully manage critical incidents. 
What is Incident Management? 
Incident management refers to an organization's ability to effectively identify, categorize, prioritize, respond to, and resolve, critical incidents in order to restore normal business operations. When actively managing incidents, the goal is to resolve the incident as quickly as possible while simultaneously minimizing the potential impacts that the event could have on the business, customer satisfaction, or reputation.
So, because incident management plays such a crucial role in a business' success and reputation, it is imperative that teams have a structured incident management plan that is driven by robust incident management tools.
In What Industries is Incident Management Important?
There are a variety of industries that utilize incident management and it is important to know how it is specifically used in your organization. 
Some of the most common industries that utilize incident management are:
IT and MSP teams must ensure continuous service delivery to their clients. Extended downtimes can significantly damage an IT company's reputation. So, by having an effective incident management plan that ensures the immediate mobilization of IT engineers during critical incidents, teams can successfully minimize MTTR, avoid prolonged disruptions and foster positive client relationships.
Whether there are unauthorized access attempts, data breaches or cyber-attacks, security teams must act fast to maintain the integrity of their infrastructure. Effective incident management provides security teams with data from previous incidents that they can leverage to efficiently handle threats and identify repeated incidents that may detect vulnerabilities. Proactively planning for incidents enables teams to ensure the security of their systems. 
During the software development process, it is imperative that code issues are fixed immediately, so that the production process remains uninterrupted. With an effective incident management plan, DevOps can quickly detect these code issues and resolve them without delaying development progress. 
Structuring an Incident Management Plan
Considering the unpredictability of business interruptions, teams must expect the unexpected and prepare accordingly. Creating an incident management plan that can be swiftly deployed in the event of a critical incident is an excellent way to ensure that responders are always prepared to resolve incidents. 
But, developing an incident management plan can be overwhelming if you do not know where to start. So, to help your team alleviate some of the pressure, we have established these incident management plan guidelines that your team can use as a baseline:
When developing an incident management plan it is vital that the purpose and scope of the plan is defined. Teams must know what their objectives are along with what types of incidents the plan covers. Sometimes an unforeseen incident occurs, so teams must be aware of any limitations within the current plan. This prevents any delays in response and ensures the ability to make improvements to the plan in the future.
In the event of operational disturbances, teams must know who to turn to for assistance. So, it is important that teams proactively appoint a response team with clearly defined roles, responsibilities, and chain of command. They must also have a structured way to escalate critical incidents to higher management or specialized teams. This ensures that the incident management plan is executed as smoothly as possible. 
After an incident is detected, teams must immediately take action to resolve it. So, within the incident management plan there must be a well-informed and structured response plan that guides response teams through containment, investigation, eradication, and recovery of the incident at hand. With an effective incident response plan, teams have a clear understanding about what actions they must take in order to resolve an issue.
Communication and Collaboration
Whether there are service disruptions, natural disasters, security incidents, or other emergencies, all stakeholders must be informed immediately. Teams must establish reliable communication methods that will be capable of informing stakeholders of safety procedures or progress updates. Seamless communication is key during incident management because it can help keep individuals and organizations safe, maintain reputations, and ensure the resolution of incidents.
Documentation and Post-Incident Reporting
To analyze root causes and prevent future incidents, making sure to maintain documentation and post-incident reports is an excellent way to accomplish this. Keeping a log of past incidents allows teams to compare similar incidents and identify potential weak points in systems or procedures.
Once an incident management plan is created, it cannot just be left alone. With evolving cyberthreats, laws and regulations, and organizational changes, incident management plans require upkeep. So, it is important that teams set aside routine meetings to analyze the effectiveness of their incident management plan, and identify any necessary improvements. 
Challenges with Manual Incident Management 
Even the most advanced incident management plan cannot be executed manually without facing extraneous challenges. Teams must invest in incident management tools that overcome these challenges: 
When teams are manually managing incidents, it is common that they experience delayed response. Without monitoring tools or alerting systems, teams must manually monitor critical systems, and sometimes they identify vulnerabilities, outages, or other emergencies too late. By the time teams are able to respond to these incidents the damage to the system, service, or security within an organization, may already be irreversible.
Ineffective Communication
There are often times when organizations rely on verbal communication. Unfortunately, this method is prone to misinterpretation, which can hinder the effectiveness of an incident management plan. Teams must deploy effective communication methods that allow for two-way text messaging that will ensure the accurate exchange of vital information.
Without incident management systems, teams can sometimes miss critical incidents or make slow progress on incident resolution. Monitoring tools allow visibility into the health of critical systems and ticketing systems allow stakeholders to gain visibility into the progress of an incidents resolution. With increased visibility teams are able to resolve incidents quickly, enhance team collaboration and promote accountability. 
Difficulties in Maintaining Historical Data
Many incident management systems store data collected from previous incidents. So, without one, teams are left to maintain and organize copious amounts of data themselves. With organizational and leadership changes, the retrieval of old data can be a hassle, if not properly managed. And, without this historical data, teams can experience even further delayed response times, because they do not have the ability to effectively see how similar events were handled in the past. 
Your staff is at risk of burnout if they do not have an advanced system to prioritize incidents or equitably distribute their workloads. They will be continuously monitoring systems and reacting to unactionable alerts that ultimately lead to mental exhaustion. So, teams must employ effective ways to reduce the mental strain on their response teams.
Tools You Need for Successful Incident Management
There are a multitude of tools that help teams overcome these challenges and promote an overall enhancement to the incident management plan. With incident management tools, teams can streamline the incident management process ensuring continuous business operations.
The following are effective tools that improve the incident management process:
Monitoring tools relieve team members of the weighted responsibility of constant system or facility monitoring, making it an excellent tool for optimizing workflows. These tools collect data from critical systems, and report any anomalies or disruptions in real-time. In turn this ensures the health and safety of an organization's staff, systems and reputation, by maintaining continuous and safe operations.
Alerting tools play a crucial role in effective incident management. They ensure that all relevant responders and stakeholders are aware of an incident and can respond immediately. They seamlessly integrate with monitoring tools as well, ensuring the automatic delivery of an alert when anomalies are detected, mobilizing the right individuals into action.
Ticketing systems are extremely helpful for teams to enhance incident tracking in a more efficient and centralized way. Many ticketing systems integrate with monitoring and alerting tools, ensuring that incident tickets are generated and team members are notified immediately, when an incident occurs. Incident tickets are vital for teams to be able to track incident response and document the process, enabling them to streamline future incident response through improved procedures and collective knowledge. 
Communication and Collaboration
When managing critical incidents, teams cannot rely on verbal communications. They must employ a system that allows for secure, two-way messaging to avoid miscommunication. This ensures that conversations are tracked, enabling accurate exchanges and enhanced accountability measures. 
Post-Incident Analysis Tools
Post-incident analysis tools are crucial for teams to improve their response plans and identify vulnerabilities within their organization. They offer a comprehensive report about why an incident occurred and how it was managed. By pinpointing areas that require improvement and understanding why previous incidents occurred, teams can be better informed and prevent future incidents.
Key Metrics that Help Analyze Your Incident Management Plan
As mentioned previously, teams must actively update their incident management plan in accordance with evolving cyberthreats, laws and regulations, and organizational change. So, once an organization develops an incident management plan and implements the required tools, it is important that they continuously analyze the effectiveness of their incident management processes. 
Some metrics that can help measure an incident management plan's effectiveness are: 
Mean Time to Respond (MTTR)
MTTR is the amount of time it takes for an incident to be resolved from the second it is reported. This can reveal how efficient your response plan is, and if your alerting tools are effectively mobilizing your response team into action. 
Mean Time Between Failures (MTBF)
Measuring MTBF can determine how well your team is identifying and mitigating vulnerabilities within the organization. MTBF is the amount of time between each system failure. This helps teams to determine where there may be underlying issues, when there is an increased frequency of failures in a particular system. 
Mean Time To Detect (MTTD)
MTTD is the average amount of time it takes for an incident to be detected after it occurs. This typically reveals the health of monitoring systems as well as how well teams can identify critical issues. This metric also goes hand-in-hand with mean time to acknowledge, which is used to measure the length of time between incident detection and when the response staff acknowledges that incident. 
The incident escalation rate is how often incidents are escalated to higher-level management. This measurement can identify any needs for improvement within the incident management process, when there is an increased amount of escalated incidents.
Resolution accuracy refers to how accurately incidents are diagnosed and remediated, by measuring the frequency of reopened incidents. This allows teams to see how well they can identify an incident, revealing the effectiveness of their post-incident reports and how well they are able to analyze them.
Customer satisfaction is paramount to an organization's reputation, so teams must measure it to see where they can improve. Oftentimes, there may be complaints about prolonged resolution times, indicating that response times must be reduced. 
Onpage as a Solution
When creating an incident management plan, organizations often implement OnPage to improve the success of their processes. OnPage is an incident alert management platform that provides: 
OnPage delivers distinguishable high-priority mobile alerts that bypass the mute switch. By doing this, teams can prioritize alerts, ensuring that only actionable alerts are being delivered to responders, reducing alert fatigue and ensuring efficient incident response.
It is important that teams are able to communicate securely and accurately, so OnPage provides teams with a way to do that. OnPage's secure messaging allows teams to deliver contextual messages both ways and send attachments when necessary, promoting collaboration and ensuring that team members have shared objectives. 
Digital On-Call Scheduling
Oftentimes, response teams can experience an inequitable distribution of the workload, especially after hours. So, OnPage's on-call management solution, allows teams to digitally assign rotating on-call schedules, significantly reducing staff burnout and creating a more equitable schedule.
Configurable Escalation Policies
OnPage further improves the effectiveness of after hours operations with its configurable escalation policies. This allows teams to effectively deliver an alert to on-call staff in an organized way, escalating the message to the next responder in line, if the first responder does not reply. 
Audit trails enhance accountability in the workplace and help to improve the incident management process. OnPage provides senders with the ability to see when their message was sent, delivered, and read, so that they are certain that the incident is being responded to.