Emergency Responders Enhance 911 Communications with OnPage!
Brighton Ambulance Launches OnPage Secure Messaging to Emergency Responder Communications.
o
"We know the OnPage system has the ability to save lives and I'd like to see other people in my industry benefit from it too. Brighton Ambulance relies on the system every day and it's doing a phenomenal job" 
– Brad Sentfleben, EMS Captain, Brighton Ambulance, New York.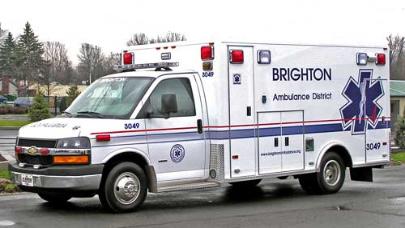 The EMS Captain for Brighton Ambulance, chooses OnPage for its ease of use, uncomplicated deployment, cost effectiveness, and for best meeting the needs of his emergency responders.
OnPage, the industry standard in alert management software, announced today that a busy New York ambulance service has chosen OnPage for emergency messaging and special operations communications. By providing secure, HIPAA compliant critical alerts, with predefined escalation protocols, audit trails, receipt and read notifications, emergency responders can be deployed quicker, more reliably and more efficiently.
"We are very pleased and honored to have Brighton Ambulance entrust their critical messaging to OnPage," said Judit Sharon, CEO of Onset Technology. "In a business where a few seconds can mean the difference between life and death for the patient, we are proud to be the solution of choice."
We spoke to Brad Sentfleben recently about the challenges that he faces on a daily basis. The following interview expresses the real-world experiences of an EMS Captain and his reasons for choosing OnPage.
OnPage: "Tell us about your daily job responsibilities"
Brad Sentfleben: "I am an EMS captain at Brighton Ambulance and I'm a paramedic. I handle two different responsibilities. I'm the communications officer, so I oversee all of the radio communications which includes using the OnPage system, and I'm also in charge of all Special Operations. These responsibilities include planning for active shooter events, large scale hazardous materials, on the road paramedic duties, and all types of emergency situations. It's a fairly large district so there's quite a bit going on here."
OnPage: "What type of communication system were you using previously?"
Brad Sentfleben: "Primarily, we were relying on text messaging which obviously is notoriously unsecure and unreliable. The county operates a paging system through a web portal, however it wasn't the best way for us to communicate and somewhat cumbersome. That's what prompted us to look for a different solution which is how we found OnPage. In other words, when it came to secure, high priority messaging we needed better tools."
OnPage: "What are the OnPage features that work best for your team?"
Brad Sentfleben: "OnPage is just simple. It works great for all we want it to do. I can give it to a non tech-savvy person and in minutes they were using it.
Overall, OnPage has made our jobs much easier while being cost effective at the same time. We're using the OnPage enterprise version and the audit trail is phenomenal. The enterprise version allows the command staff to have access to a dispatch console that tells us who was sent a message and when, and its delivery status. All of the message content is well organized too. We know that all of us are going to get our messages no matter what. We love that!"
OnPage: "Do you find the on-call scheduler useful?"
Brad Sentfleben: "The on-call scheduling feature is working great for us! At night we have a rotating on-call and several officers on duty. For instance, if somebody calls in sick, OnPage allows us to communicate in real-time, thereby quickly filling that gap in personnel coverage. It also automatically escalates to the next person when necessary. OnPage is reassuring 24/7, it's efficient and a big time-saver for us. If anyone goes on vacation all we have to do is temporarily remove them from the group. Scheduling is no longer a big headache for us and that's huge for emergency responder teams and any public safety agency. If something happens, an employee can always get an officer because of OnPage!"
OnPage: "As an emergency responder, how often do you use OnPage?"
Brad Sentfleben: "Brighton Ambulance relies on the system every day and it's doing a phenomenal job.
We were also able to tie OnPage into our 911 computer aided dispatch system. I have an e-mail address account in 911 dispatch dedicated to escalated calls. Incidents such as a severe motor vehicle accident needing the Jaws of Life or medical emergencies will trigger a special alert to the officers in the 911 system, on or off-duty through OnPage. It's reassuring to know that we always have situational awareness, even if we have personnel outside of the county border."
OnPage: "Do you have any final comments?"
Brad Sentfleben: "We know the OnPage system has the ability to save lives and I'd like to see other people in my industry benefit from it too. There's a lot you can do with this product!"