What's New: Introducing Delay Notifications to Control Alert Fatigue

The OnPage team is pleased to announce a new feature to the enterprise web console: Delay Notifications. With this new addition, organizations have the option to queue messages for specific time periods, delivering messages at the end of the Delay Notification schedule. The latest feature is designed to alleviate alert fatigue and improve work-life balance for incident respondents. 
Latest Advancement: Delay Notifications
Addressing customer pain points, such as alert noise and alert fatigue, forms the basis of OnPage's product development initiatives. OnPage always looks to develop solutions that solve customer challenges. 
Try OnPage for FREE! Request an enterprise free trial.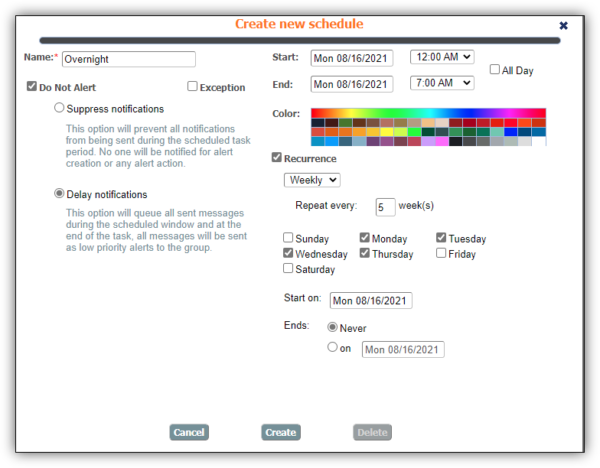 Based on customer feature requests, the OnPage product team prioritized the development of Delay Notifications. The COVID-19 pandemic accelerated the urgency, as customers impacted by a spike in incidents, started requesting the feature to continue managing their tasks effectively.  
OnPage Delay Notifications are now live and available for Enterprise Gold users. Administrators can configure Delay Notifications directly on the on-call web management console. When a Delay Notification schedule is active, OnPage queues all messages that are sent during specified times or "delay hours." These OnPage messages are only delivered to users at the end of the Delay Notification schedule.
At OnPage, our proximity to customers gives us the ability to stay agile and bring product enhancements to market quickly. OnPage's dedicated product experts work collaboratively to deliver solutions that help alleviate customer pain points, such as eliminating alert fatigue for incident response teams.