Pager Inefficiencies | OnPage Pager Replacement
The OnPage Pager Replacement is the Answer to poor Hospital Communications.
According to a recent study by Dr. Larry Ponemon, of the Ponemon Institute, "…the efficient communication and collaboration among physicians, nurses and other providers is critical to the coordination and delivery of patient care, especially given the increasingly mobile nature of today's clinicians…"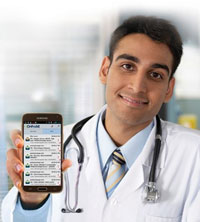 The health care industry continues to rely, for the most part, on Pagers — an antiquated technology.
Pagers create inefficiencies that have a significant economic and productivity impact on the health care industry — costing billions.
Dr. Ponemon details these inefficiencie in his "Report on the Economic Impact of Inefficient Communications in Healthcare".
These are the four main points :
The average care provider wastes more than 45 minutes per day by using outdated communication technologies – that's almost 6 hours a week.
65% of the time it takes to admit a patient is wasted due to inefficient communications. This results in an annual loss of $728,000 per year – that's almost ¾ of a million dollars
An average of 20 minutes per patient could be reclaimed during the transfer process by using secure text messaging
The use of secure text messaging overall could dramatically increase productivity, and could save an estimated $918,000 per hospital annually – that's almost $1 Million a year.
Judit Sharon, CEO of Onset Technology, makers of the OnPage Secure Priority Messaging App for Android, BlackBerry, and iOS smartphones and tablets, states that  pager replacement technology is up to 5 times faster than traditional pagers.
As a result, increased response time to messages, message receipt and read conformation  may also contribute to increased efficiencies in a health care setting.