OnPage Overrides Silent Switch on iOS and Do Not Disturb Mode

Since its inception, OnPage has been dedicated in providing a powerful critical alerting solution. This mission continues in 2020, as OnPage is pleased to introduce its ability to override the silent switch and Do Not Disturb (DND) mode on iOS. 
The latest advancements ensure that tasked recipients always receive high-priority, OnPage audible alerts, regardless of their current iPhone settings. At its core, the OnPage release ensures business continuity with the promise of never missing critical notifications. OnPage is leveraged by organizations worldwide including the US, Canada, Australia, New Zealand, United Kingdom, Germany, the Netherlands, and many more in healthcare, IT services, transportation, education, and oil & gas industries to name a few.
The OnPage Promise 
OnPage is an incident alert management system, ensuring business continuity with the promise of never missing critical notifications. It ensures that alerts always reach the right on-call recipient at the right time. If the recipient is unavailable, the notification will escalate to the next person in line. 
The latest software release ensures that all OnPage high-priority, critical alerts are addressed and heard regardless of one's device configurations.
OnPage can be integrated with monitoring systems and IoT sensors to automate the notification process. The system even includes an enterprise management web console to manually send alerts to selected message recipients.
The solution is used by:
Healthcare providers as a pager replacement and clinical communication and collaboration (

CC&C

) tool

IT support teams to elevate incident notifications from servers, IT infrastructures and monitoring tools to reduce mean time to repair (MTTR)

Organizations that must elevate important emails for immediate attention
Try OnPage for FREE! Request an enterprise free trial.

Snags Encountered Before Latest Advancements
Prior to the enhancements, OnPage high-priority alerts were muted by the iPhone's silent switch. Some OnPage users would use iOS's silent mode during meetings to avoid low-priority interruptions, muting all critical notifications in the process. Further, some users would forget to turn their devices back to ring mode, resulting in missed alerts and delayed incident resolution.
Additionally, OnPage couldn't override the iPhone's DND option. DND is an iOS system setting that enables users to pause audible notifications or calls when their devices are locked. This was prevalent at night when some OnPage users placed their devices on DND mode.
In response to a growing number of requests from users, and after substantial negotiations with Apple Inc., OnPage reached an agreement with Apple, allowing the alerting vendor to override the silent switch on iOS and DND mode. 
Try OnPage for FREE! Request an enterprise free trial.

OnPage Releases Version 7.4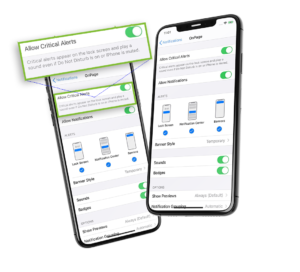 OnPage is excited to release the latest version of its software, addressing common iOS limitations. The edition meets the needs of today's response teams, and differentiates the OnPage service from other alerting providers. 
OnPage is always responsive to the needs of its users, and it's proud to be one of the very few incident alerting services to override the iPhone's silent switch and DND mode. 
To download the latest OnPage version click HERE.
To read the full press release click HERE.