Case Study: Lehigh Valley Technology Company
Considering adding after-hours support to your offerings? Do you deliver 24×7 support today but are looking to improve performance and streamline processes?
Discover how Lehigh Valley Technology Company, using OnPage and OnPage's integration with Autotask, improved customer service by eliminating missed alerts, speeding up after-hours incident response by 300% and reducing the cost of 24×7 support, all while improving team morale.
Check out the case study and improve business results for your MSP today.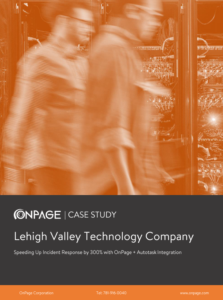 Download the Case Study