Replace Antiquated Pagers With OnPage
OnPage is the solution! Trusted by thousands of doctors who love its ease of use; OnPage is a HIPAA compliant messaging and critical alerting service that speeds up consultations between doctors and is the fastest paging solution out there.
HIPAA Mandates That any Messaging Service Used by Doctors Must Have the Following Attributes:
a sign-on process
encrypted messaging
delivery and read receipts
date and time stamps
customized messaging retention time frames
specified contact lists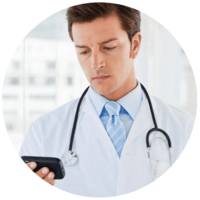 OnPage Features are Designed to Ensure HIPAA compliance. The app Achieves This Through:

Requiring app and web console to both come with a sign-on process. The web console allows you to schedule doctors and staff on call.
Ensuring messaging through the app is completely secure making it the ideal pager replacement solution! Message encryption through OnPage includes attachments like image and voice files.


A sophisticated and user-friendly web console audit trail that informs you when an alert or message is sent, delivered and read. This ensures complete accountability and delivery. Read receipts allows for easy trackability when incidents occur.
Enabling date and time stamps which are a part of every piece of communication that goes through OnPage and customized messaging retention time frames.


You can message and alert all the contacts you have on OnPage, knowing that all contact lists are secure.
OnPage provides all these features right on your smartphone in a fashion that's easy to set-up and use. We understand that the primary goal of a healthcare professional is to save lives and we want to aid in that process by making communication easy and secure