Crossing "The Last Mile" with an Incident Response System

IT Teams Are Losing in the "The Last Mile"
For IT organizations, the last mile is the all-important final communication relaying automated notifications of system failure to the human team members who can solve them.
Despite advances in monitoring technology, your IT team could still be losing in the last mile without an incident response system.
Seconds matter when critical systems break down, and slow incident resolution can have costly ramifications on customer experience and employee productivity.
Delivering dependable and high-performing IT services requires coordination and collaboration across different workflows, areas of expertise, and even time zones. 
How Incident Response Systems Can Help
Also referred to as automated incident response (AIR) solutions, incident response systems ensure any anomalies are escalated to the proper points of contact and acted upon quickly.
These systems offer a failsafe beyond the cluttered communications of email and SMS alone by delivering loud, repeated alerts to make on-call engineers aware of high-priority incidents. 
Investing in an incident response system is a small price to pay compared to the losses of both revenue and reputation that result from unaddressed outages.
In their most recent hype cycle for ITSM (IT service management), Gartner rates incident response systems as highly beneficial and entering mainstream adoption. IT managers preparing to add incident response systems to their workflows must consider the following factors:
On-Call Scheduling for 24/7 Incident Alert Coverage
Though 24/7 IT support is the expectation of clients, no one team member can be online 24/7.
To create a full coverage schedule for their clients, IT administrators should choose an incident response system which allows them to manage which team member will receive the incident alert during specified shifts or intervals and which escalation criteria to deploy.
With an on-call scheduling feature, IT administrators can create alert criteria with confidence knowing they are not intruding on the personal time of personnel who are off the clock while still ensuring 24/7 incident alert coverage.
Make sure to investigate, however, where the incident alert management system will route alerts in the event of a scheduling lapse. The preferred on-call scheduling for 24/7 incident alert coverage should eliminate human errors caused by scheduling lapses. 
Try OnPage for FREE! Request an enterprise free trial.

What Went Wrong? Post-Incident Reporting
Beyond the ability to properly route incident alerts, optimal incident response systems also provide post-mortem reports.
IT managers can analyze these reports for process improvement insights, allowing them to reduce future outages and improve incident response time.
Timestamping features within the dashboards of incident response systems allow IT administrators to audit which of their team members received, read, and responded to incident alerts.
This creates accountability for on-call personnel and allows IT managers to measure and report their team's incident response capabilities.
Integrating with Existing Systems
As "the last mile" between monitoring systems, ITSM tools, and on-call responders, incident alert management systems must be able to route reports of IT incidents immediately to the right on-call team with accurate and actionable alert messages.
Based on customizable parameters and alert thresholds, messages are generated and delivered to notify IT personnel of incidents such as security breaches, infrastructure failure, and application outages.
These integrations between monitoring and alerting systems should be configured and formatted so that the recipients will be provided with all of the information needed for them to quickly understand the situation and step into action.
There might not be any other available points of contact online for the on-call personnel to consult during after-hours incidents, so the alerting tool must contain team members information for immediate dispatching of other experts in case that a collaboration is needed to resolve the incident.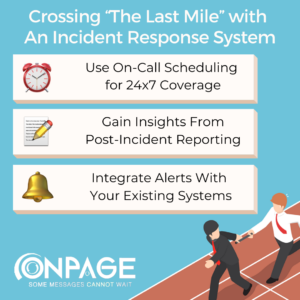 Your Partner for Incident Alert Management
Here at OnPage, we have helped thousands of companies strengthen the last mile of their incident response processes and maximize the ROI of their monitoring systems with our secure alert management technology.
To learn more, visit OnPage.com or give us a call at +1 (781) 916-0040.