Remembering Pagers or "How to Say I Love You in Three 3's"
When Pagers Were King.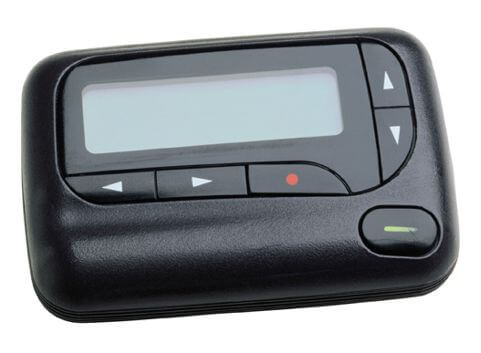 A couple of decades ago, in its heyday, pagers were unquestionably "The Next Big Thing" – a sleek, hi-tech, futuristic communication device. If you really needed to get in touch – send a page! The buzzing-vibrating sound was sure to get the attention of whoever you sent the page, and they would certainly respond. We'll, that was the idea, but it really didn't play out that way.
Here's why:
First: You really never knew if they got the page, which is kind of a drag if the page was important. Back then, in the Pager Age (P.A.), there was no such thing as message receipt, message read conformation, or an audit trail.
Second: Response time was, by today's standard, LONG!  But, people really didn't expect immediacy back then. Of course, that wasn't really a problem. You could always ask them if they got the page tomorrow –  if you happened to meet up in person, or called them on the telephone. Now, you certainly wouldn't want to send them another page, checking up to see if they got the first, because they might not get that one either.
Third: Once the pager buzzed with the message, if you didn't pick it up, it eventually stopped buzzing. Today, OnPage Secure Priority Messaging offers an app that works on Android, BlackBerry or iOS smartphone (and tablet) that delivers a persistent delivery, and will attempt to contact you for 8 hours. This means you'll never miss a critical message. (Check out the advantages of OnPage Secure Priority Messaging Vs. Traditional Pagers
Let's Travel Back to the "Pager Age" (P.A.).
Today, the pager might seem like primitive artifact on par with the hip-hugging slide rule, the over the shoulder boom-box, or the counter-weight balanced Garrard Lab-80 record changer. But some people – we won't name names – who work in the professional world, are still using pagers to try to keep in touch about really important stuff like their mission critical servers going down or a power outage in a medical trauma center during a minus 30 degree Polar Vortex. But hey, not everybody is going to jump one board and become an early adopter of a virtual pager delivering assured, accurate, and reliable priority messaging via app on a smartphone – even if they've had three years (over 1000 days) to make the switch.
So… if assured and reliable messaging via smartphone just "ain't your thing", let's take a trip back in time and examine an ancient social messaging art form – on a  platform that had its own language, culture, and code:.
Good-old Pager Communications (or, "Let's Do the Time Warp Again")
Here's a  lesson in old fashion pager number coding.
Wanna send a love note to someone special ? – send: 831*637.
How about if you want to break up and say "Good By" – send: 6000*843
Are you lonely? send "I miss you" – send:  I*177155*400
Desperate to hear from them again – send "call me back" – 99
Really head over heels? send "Love" – send 333
Have an important message? send "Emergency" – send: 911
Tired now? say "Good night" – send: 6000*171647
Need to hear from them again: say "Call me back" – send: 424
Want to introduce yourself : say "Hello" –  send:  07734
 Here's what people are saying about their remembrances of pagers.
"I had a pager!  I just remember than the "cool" way to wear them was to put it in your pocket with the little clip sticking out, so everyone would know you had one, but you weren't flaunting it. I was about 14 at the time, and the darn thing always got me in trouble b/c my mom would page me, and i was never around a phone to call her back!"
"I remember pagers too.  Instead of paging 143, my code to my boyfriend was 775."
"If you turn the pager upside down, it reads SLL = (my name) S, Loves Les!  He thought it was corny but he liked it too."
"All I wanted was a pager like Cher after the Clueless movie came out.  I also remember when my Dad had a cell phone like Zack Morris from Saved by the Bell.  Oh my."
"I was a pager tool!  My pager beep was the tune of Inspector Gadget!  Whooo hoooo"
For more insight download: A Guide To Replacing Your Pager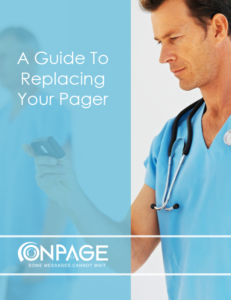 Did you know that pagers don't provide the needed encryption for clinical communications?
To meet HIPAA regulations, all doctor-to-hospital digital communications require a sign-in process,  message encryption and remote data wipe capabilities. Pagers have none of these requirements!
To explore pager replacement strategies download "A Guide To Replacing Your Pager"