OnPage Integrates with SolarWinds Orion
OnPage IT Alerts Management Software teams up with SolarWinds to elevate Critical Alerts before impact.
WALTHAM, Massachusetts:
Onset Technology creator of OnPage, the leading provider of critical enterprise messaging and alert management services, is pleased to announce compatibility with SolarWinds Orion technology backbone. SolarWinds is a leading provider of powerful and affordable IT performance management software.
The suite of SolarWinds Orion-based IT monitoring and management products includes a powerful web-based intelligent alerting engine that allows users to quickly configure alerts to respond to hundreds of different network scenarios including multiple condition checks.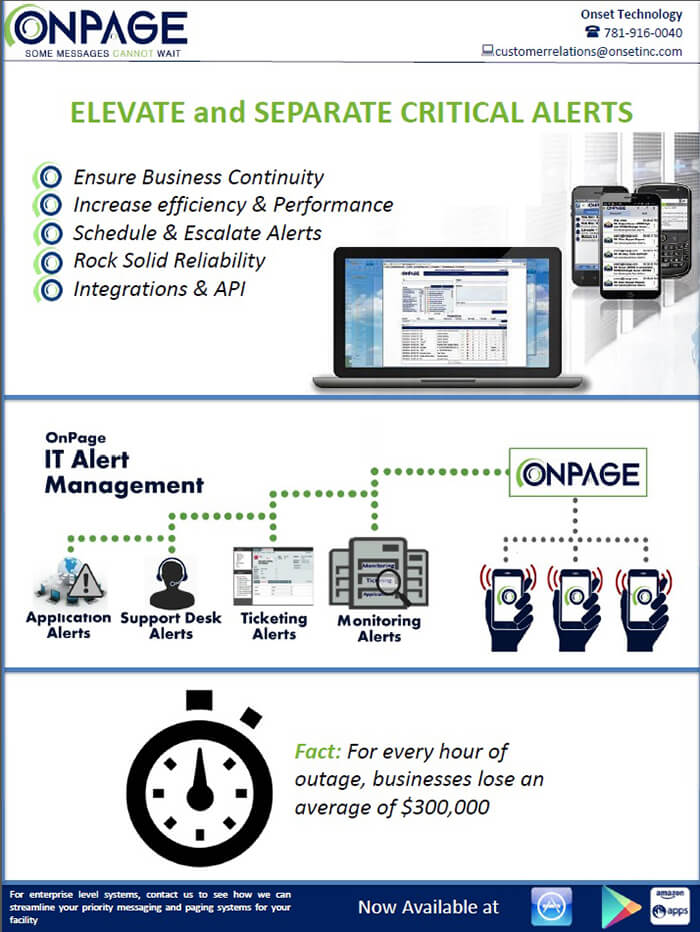 OnPage is a cross platform, prioritized messaging system for smartphones that elevates the 'High Priority' messages above the clutter. With a prominent alert-until-read and dedicated inbox, it eliminates the need to carry a traditional pager in order to separate critical messages from the clutter of casual SMS and email.
"Businesses live or die on the reliability of their IT infrastructure," said Judit Sharon, CEO of Onset Technology, developer of OnPage. "We are extremely proud to provide compatibility with the SolarWinds Orion-based IT management products and its intelligent alerting capability. Via the OnPage system, an alert is sent to the right person on-call to ensure it grabs the user's attention."
The power and flexibility of OnPage combined with SolarWinds can be applied in dozens of different ways including emergency notification, help desk ticketing augmentation, as well as server alert response and notification, ensuring no critical alert is missed or delayed.
"IT professionals are under a constant flood of alerts and it is imperative that they are able to quickly respond to critical issues," said Nikki Jennings, group vice president, products and markets, SolarWinds. "The combination of OnPage with SolarWinds' intelligent alerting ensures that these alerts are delivered to the right person regardless of where they happen to be."
Using OnPage, IT professionals can now configure SolarWinds' intelligent alert engine or statistical threshold & baseline components to send a prioritized alert to the right on-call person, or escalate the alert to other team members using the OnPage Enterprise console.
The responsibilities of an IT department are comprehensive. One missed alert may cause the business millions of dollars, and hours of delay. That is why so many IT managers are choosing to augment their state-of-the-art monitoring solutions with OnPage, a rock-solid alerting system. This combination assures the IT manager that critical alerts get quick attention before they impact the business.
Why consider SolarWinds?
SolarWinds offers the power to manage IT from top to bottom regardless of where the asset is.
SolarWinds seamlessly monitors and manages networks, applications and systems in a scalable, fully-integrated platform
Affordable and intuitive, accessible to both small and Fortune 500® enterprises.
Why OnPage?
While OnPage eliminates the need to carry a pager, OnPage includes all its benefits without its shortcomings, plus some needed features such as:
Groups and Escalation Group until a message is answered.
Scheduling for off hour coverage.
Time Stamped audit trail of all messages and responded time.
TAP backup for any email server failures
"The OnPage Smartphone System gets the correct technician's attention quickly every time," said Doug Goss, chief engineer inDallas Texas. "Most of what we are monitoring is critical, so we need to know if there's something to fix or reset right away. Since we are dealing with a well-known international leader in telecommunication services, any outage quickly impacts their mobile phone and commercial customers – Highly Recommended!"
About Onset Technology Inc.:
For more information visit: www.OnPage.com or OnPage Video
About SolarWinds:
For more information visit at www.solarwinds.com
OnPage is a Pager Application & Secure Messaging in one easy to use Smartphone based application.
Used by thousands of IT organizations and HealthCare facilities across the globe.
Unlimited messaging Globally! – Download the FREE TRIAL Today!