OnPage Ensures Compatibility with Apple iOS10
OnPage functionality complimented by Apple's iOS10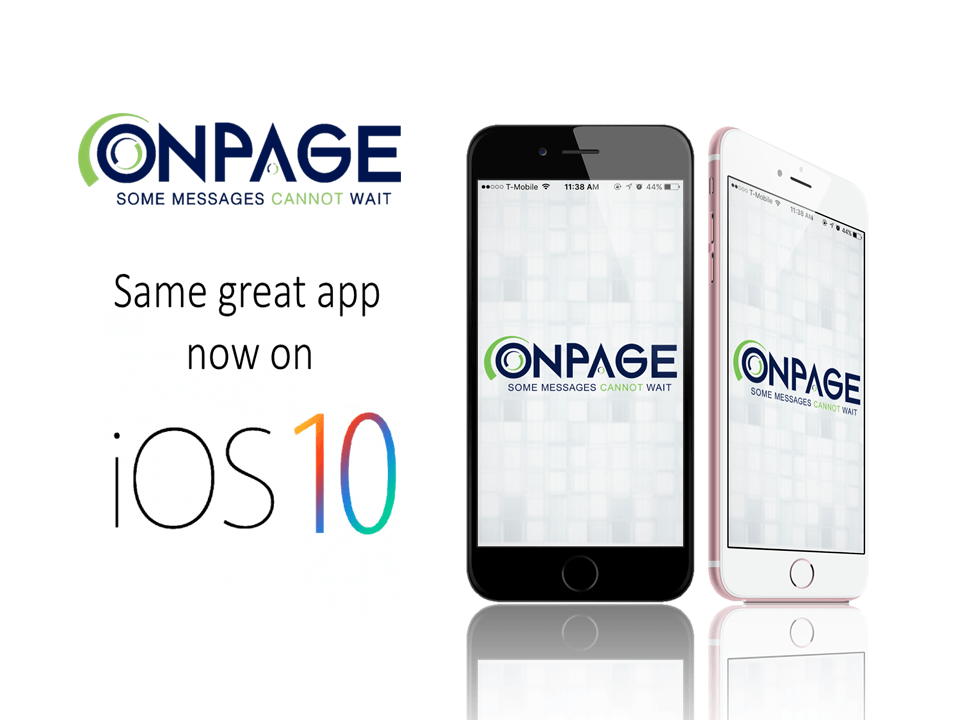 OnPage has ensured compatibility with Apple's iOS10 operating system. Apple's newest operating system has only been around since mid-September but OnPage team has ensured there is no pause in compatibility.
The iOS10 update provides functionality that many in the OnPage world will find helpful. Specifically, the new operating system allows users to add callback codes such as *67 before pasting a phone number into the keypad. Dialing *67 before a phone number deactivates caller identification, or caller ID, and the system shows "private number" instead of an incoming phone number. For practitioners who receive OnPage alerts and need to call back their patient or customer, they can now copy the number from the alert to the keypad, add *67 as a prefix and call back the patron without having to reveal their cell number.
Additionally, iOS10 also enables Universal Clipboard so you can copy content across Apple devices. This update allows users to copy content ranging from images, documents, messages, emails or the OnPage console on your Mac and paste it into your OnPage app on your iPhone. This allows OnPage users a much more seamless approach when creating alerts on their iPhone.
The OnPage app continues to support the capabilities it has historically demonstrated such as:
Secure alerting: All messaging is encrypted
Persistent messaging for up to 8 hours: Also known as alert until read, alerts will continue for up to 8 hours before expiring
Real time communication: Instantaneous messaging with individuals or team members
Forwarding: Send messages to your team members to bring them into an important conversation
Prioritized messaging (High or low): Not all messages are created equal. Some messages require immediate attention (high priority) while some need attention but not right away (low priority)
HIPAA compliance: All messages are HIPAA compliant
Multiple ring tones and settings: Pick the ring tone you want to alert you
Ability to add attachments: Include images or voice attachments to your message to enhance your meaning
Ease of use: OnPage's technology is intuitive. It's easy to set up and easy to use.
The OnPage app is available for download on the App Store. Download for a free 7 day trial.