Case study: Get Hip With HIPAA or Face Huge Fines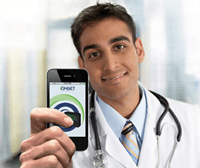 One thing we've learned since getting involved in the business of providing healthcare organizations with secure, assured messaging technology: The vast majority of healthcare professionals don't realize that a significant amount of their messaging is potentially in violation of HIPAA requirements.
According to a GlobalSign survey released last year, 56 percent of IT security professionals reported that they spend the majority of their day addressing compliance issues, and 4 percent said that their organizations faced a patient-records data breach in the past two years.
If your organization is using SMS or email, you're likely fall into that category. Read how Total Connections, LLC, an OnPage customer, is using our technology to help healthcare and EMT organizations protect themselves from substantial fines for violating HIPAA regulations in our Case Study below: [wpdm_file id=2]
Were you aware that SMS, voicemail, and email aren't secure messaging? How are you complying with HIPAA? Tell us in a comment!