Boston Marathon 2015
Reporting:  Sam Sharon for Onset Technology

Thankfully, the 2015 B.A.A Boston Marathon went smoothly.
Supporters lined the entirety of 26.2-mile course, from Hopkinton to the Prudential Center.
At the finish line, banks gave spectators free popcorn and cowbells; and on Heartbreak Hill, retail stores set up food buffets and giveaway stations.
True to the New England spirit, even the weather didn't stop the celebrations. And all across Massachusetts, the echo of "Boston Strong" could be heard.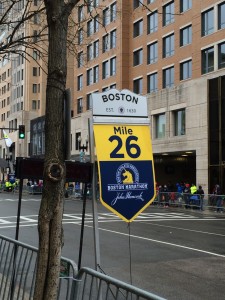 But now, with the Tsarnaev trial coming to a close on the heels of this year's Marathon, memories of the 2013 Boston bombings begin to resurface.
Unlike before, the whole racecourse was now dotted with Boston Police officers, sheriffs, and even K-9 units on every block.
There were over twenty security checkpoints throughout the course, and only clear plastic bags, and purses smaller than twelve inches, were allowed through without a thorough search. The Copley and Arlington MBTA stops were shut down, and many roads surrounding the Marathon route were blocked off for the entire day.
Clearly, communication is key in planning events such as the 2015 B.A.A Boston Marathon. Companies like OnPage understand the importance of high-priority messaging, and offer a smart solution to facilitate such communication.
And so, OnPage continues to support the City of Boston, the Boston Athletic Association, the countless law enforcement officers involved, and, of course, the runners of the 2015 B.A.A Boston Marathon.