OnPage: Cybersecurity & Critical Incident management

Best Practices: Cybersecurity Incident Management & Critical Incident Response.
Incident Detection & Response is a growing challenge – security teams are often understaffed, the attack surface for intruders is expanding, and it's difficult to detect stealthy user-based attacks. In this environment, critical alerting tools are a requirement.
The Missing Link is OnPage!
Investing in cyber-security? OnPage ensures Critical Alerts get to the right person securely with Real-Time Incident Management! Intelligent Messaging, Escalation Schedules & Audit Trails are easily integrated into your existing Remote Monitoring Software. OnPage will plow through the noise and prioritize the most crucial alerts.
Read more about what OnPage adds to cyber-security protocols.
.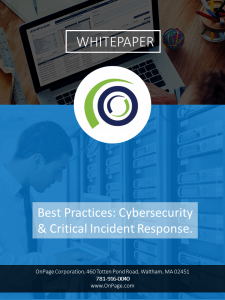 OR