OnPage Assists in Disaster Recovery Amidst Hurricane Sandy's Fury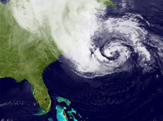 Hurricane Sandy Hit the east coast with flooding, high winds and sent millions without power. As a result of the storm, Sandy left many businesses without power that ultimately led to downtime.  The OnPage facilities, located in Pennsylvania and New York City were hit hard by Sandy, but remained operational amidst the power outages that pursued.
OnPage's hosted cloud infrastructure is always prepared in case a natural disaster strikes. OnPage's power supplies comprise redundant systems as well as battery and multiple generators backup, providing uninterruptible power at all times. The OnPage facilities are also equipped with fiber optic SONET Ring (Synchronous Optical Network), a "self-healing" cabling system that is known for its 99.999% uptime.
No interruption of the OnPage service meant that Onpage's clients were able to use OnPage's communication services during the hurricane, including coordinating disaster relief where it was most needed.
To read the Entire Press Release Click Here