Worried About HIPAA Compliance?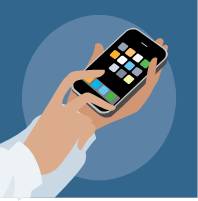 A recent study done by the Ponemon Institute on the Risk of Regulated Data on Mobile Devices & In The cloud concluded that cloud based storage and mobile applications are the typical sources for safety concerns in clinical settings.
The survey included 781 IT and data security practitioners and found that 59 percent of respondents said their organization permits employees to use their personally owned mobile devices (BYOD) to access and use regulated data. However, only 35 percent of organizations have a policy that tells employees what is acceptable. Of those respondents who say their organizations permit employee owned devices in the workplace, an average of 53 percent of employees in these organizations use their own devices to access and use regulated data,
When it comes to communication in the healthcare sector, HIPAA Compliance should not be a concern when organizations can turn toward OnPage Priority Messaging.  OnPage is a virtual paging application for smartphones that allows organizations to be in full HIPAA compliance while improving their communication processes at the same time.  Organizations that are currently using solutions such as SMS or email to receive important pages are violating many HIPAA requirements, and making Healthcare Executives nervous about potential HIPAA fines.   OnPage is fully HIPAA compliant has secure encrypted transmission with full audit trails of all messages sent.  Because OnPage is fully compliant, healthcare organizations do not have to worry about what employees should be doing to protect their data when sending or receiving pages; the protected health information sent with OnPage is secure.