OnPage On The Cloud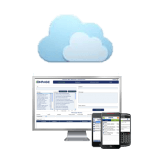 Being "on the cloud" is a great way to harness the power and scalability of large computing resources and it is becoming a more integrated and efficient way of ensuring highly dependable, redundant and secure SAAS performance. Over the past year, we have upgraded our system to make sure we were enhancing its software, servers and facilities. We want to have the most reliable and resilient system possible. Having a top of the line platform that guarantees our customers uptime is extremely vital. With continuing improvement, we can continue to scale our system and have it expand and grow.
As a SAAS smartphone priority messaging and pager application, we know the importance of being "on the cloud." That is why we have a private, secure cloud architecture that has been part of our plan right from the start. With a focus on reliability and redundancy, our facilities are SAS 70 certified and practice SSAE 16 compliance so all of our controls and safeguards are in place to secure our clients data and to maintain high levels of facility operation through regular auditing.
Both our hardware and software have fully redundant systems to safeguard uninterrupted operation. Server hardware has auto failover to other physical servers.  All software is virtualized on SAN and RAID environments with multiple access paths as well as failover to a hot standby system in case of emergency.
All of this translates into OnPage having a priority messaging and pager system that is secure and that will function in the most challenging of times for our customers.