New OnPage™ Feature: Web Console for Paging Management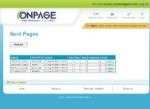 Managing the paging communications function for large organizations like healthcare clinics or hospitals can be tricky. There may be tens, if not hundreds and sometimes thousands of contacts to manage, notify and track. It's a challenge for any organization.
Introducing the OnPage Web Management Console
As part of our ongoing development specifically geared toward the enterprise level customers, OnPage has just released a new feature to help multi-account clients better manage their pager and priority communications. It is the OnPage web management console.
The OnPage web management console continues our efforts to make sending and receiving pages and priority messages as flexible as possible. OnPage users can now send messages directly from a customized web console, in addition to the previously available methods of email, phone, and through the application itself.
How to Add the Web Management Console
OnPage customers that want to manage the pager notifications can simply add the Web Console Management Option to their existing OnPage business subscription package. The cost to add the console varies depending on the number of users and the length of subscription, which can be monthly, quarterly pre-paid or 1 year pre-paid.
To add the service or learn more about it, call our sales team at 781-916-0040 during regular EST business hours. They'll be glad to add and coordinate the activation with you.  The service is available to all paid subscribers but unfortunately, it is not available to users as part of their 30-day free trial.
How the Web Management Console Works
Once a customer adds the web console option, OnPage grants access to a private, SSL secure console set up specifically for the company.  This specific login (extranet) can only be accessed by company authorized email accounts.
Authorized accounts access the console by going to the www.OnPage.com website and logging in using their secure user IDs and passwords.  Users can login by selecting the Web Console Login-in Button at the top of the www.onpage.com website page, or by clicking the navigation menu item located on the bottom left side of the page under "Download and Access".
Once inside, navigating the console is easy and intuitive. Console users can send a page, sort and manage contacts, view sent pages, or access frequently asked questions. Console managers have the ability to monitor paging activities going back days, weeks, or even months.
Especially convenient is the contact management function. It allows console operators to add or remove contacts, or to send a page to a person or multiple-people from a preloaded contact list that can be updated and edited.
Benefits of the Web Console
Manage priority messages via web based console
Secure and encrypted messages
Audit trail with delivery and read confirmation
Contact management for multiple pager accounts
Dispatch from one location, or mobile from iPhone, iPad, or BlackBerry device
Individual and group paging capability
Log and track console priority messages sent and received
Immediate priority message dispatch
Paging communications for large organizations doesn't have to be difficult. Our Web Management Console helps consolidate heavy paging volume, and gives dispatchers the tools they need to manage the pager and priority messaging flow.