The Mobile Health Revolution is Here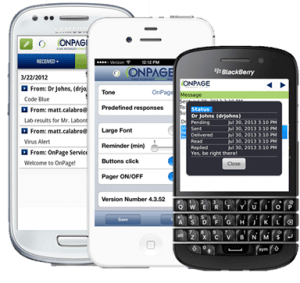 Advances in mobile computing technology are revolutionizing the way teen, parents, grandparents, and businesses communicate, access, and use information. If you think about it, it's not at all surprising, considering that people check their phones an average of 150 times a day.
As of 2014, more than 80% of Americans own and regularly use cell phones. Of those cell phones, 50% are smartphones running iOS or Android operating systems which capable of browsing the Internet and downloading the millions of available Apps.  Anyone who has a teenager knows that mobile computing has taken over. But here's what may be surprising to some – mobile computing has made major inroads to the professional world, with patient health management at the head of the pack.
An Information Week article published in 2011 reported that 80% of doctors use a smartphone or a tablet (such as a iPad) at work. And in another report, HIMSS presented data that "93% of physicians use some form of mobile technology daily, and 80% use tablets or smartphones to directly influence patient care."
These are five major factors contributing to the popularity of mobile devices by health care professionals :
Affordability – prices have remained stable while quality has increased
Availability – mobile and wireless signals are ubiquitous
Convenience –  you're probably are already carrying a smartphone or own a tablet
Ease-of-Use  – mobile devices and apps are easy to learn
Portability  – you can carry a mobile device anywhere – it fits in your pocket or hand
With each generation, mobile devices are lighter, have more features, are more powerful, are more widely used, and maintain the same overall price-point. There now are smartphone apps for every operating system, and health care need, with applications ranging from drug dose calculators to HIPAA compliant  critical messaging solutions.
Stats indicate that the health care industry appears to be trending towards the use of the iOS platform. According a report on iMedicalApps.com, when the popular medical app UpToDate is used on a mobile device, 90% of the users are on an iOS device. Judit Sharon, CEO of Onset Technologies, the makers of the OnPage priority messaging system, said, "Over two-thirds of doctors using the OnPage app are running the iSO platform, with the remainder on Android and Blackberry."
Exactly what medical specialties are currently using mobile the most? Here's a list, according to a study by Bulletin Healthcare:
Top-10 Medical Specialties Using Mobile:
Emergency physicians: 40%
Cardiologists: 33%
Urologists: 31%
Nephrologists: 31%
Dermatologists: 30%
Gastroenterologists: 30%
Psychiatrists: 28%
Radiologists: 24%
Rheumatologists: 22%
Endocrinologists: 21%
 The Mobile App Appeal
Why are physicians attracted to mobile?
According to CommonwealthFund.org , because "apps are easily integrated into their workflow — delivering information when and where they need it."  Today, it's the portability and flexibility of both mobile devices and apps that is the key driving the use of mobile technology. The App-enable mHealth industry – translation: smartphone apps that enable mobile health – is positioned for growth that some believe will exceed $20 billion by 2018.
As app and cloud technology evolve, the mobile revolution will be less about gadgets and software, and more about how patients and health care providers are able to exchange information with more accuracy, efficiency, security, and trust.