Mobile App Market Expectations For 2016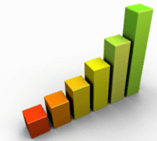 Forecasting for mobile health applications is looking good. According to ABI Research, the mobile health applications market is predicted to grow to $400 million as 2016 approaches. In 2010 the market reached $120 million, so looking forward this research suggests that the market could actually quadruple in size in 2016.
A growth this tremendous will mean big opportunities for application developers, technology vendors and healthcare practices that will start to see more of a presence of mobile apps in their own organizations.
Alongside ABI's research, Juniper Research also released its own study that depicts mHealth apps will reach 142 million downloads around the world in 2016. Contrast to ABI's research, Juniper expects the download rate of the mHealth apps to grow at twice the rate of revenues. They predict more than a billion downloads occurring annually by the year 2016.
With these new forecasts the expectations for the mobile app market is now tremendous.  As the use of smartphones increases, and new procedures for healthcare are formed, the mobile health market and its customers are its great beneficiaries.