Mobile and Tablet Health Tools are Growing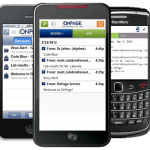 According to the new Cybercitizen Health® U.S. 2012 by Manhattan Research, mobile and tablet health activity are continuing to grow. More than 75 million adults in the US are currently using their mobile phones or tablets to gain information on health related issues, which is up from 61 million as of last year.
"Growing ownership of connected devices and the access to digital health tools and information they provide is helping to drive the broader shift from intermittent to continuous care," Monique Levy, Vice President of Research at Manhattan Research, stated. "This trend shows vast potential for changing key dynamics of healthcare delivery, including patient engagement, provider involvement, and how preventive care is incentivized."
As Levy stated above, it is important for both physicians and patients alike to notice the enormous growing trend for mobile health tools. These tools could change the dynamics of communication and engagement between health providers and patients. Many adults today are used to instant communication, as internet and mobile technology have made most things available immediately. Yet, communication with health providers can still be a slow process for many, hence, why more than 75 million adults may be turning to their tablets and smartphones for medical advice instead of consulting a doctor. This trend could hurt various healthcare facilities which is why physicians need to act on the mobile technology trend as well and make positive changes to better their communication efforts. For example if doctors use secure priority messaging applications for communicating both within their facilities and with their patients they would be able to save valuable time and increase patient engagement.
The Manhattan Research firm polled 8,745 US adults via landlines, mobile phones, and the internet during the third quarter of 2012. To read more on the survey visit Manhattan's website here.