Knowledge Is Key For Pager Replacement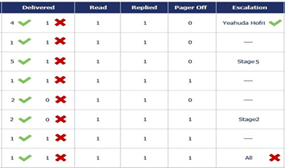 Communication processes are continuing to be streamlined by new technologies and new gadgets. Traditional pagers once used to hold important functionality but now lack very important features. Users who want the paging functionality without the actual pager are turning towards more advanced technologies to replace their pagers.   Users who are looking to replace their pagers should remember that knowledge is key. You want a solution that will be able to provide you complete insight into your paging and communication needs.
OnPage is a complete secure and encrypted pager application that operates on your smartphone. The OnPage application allows you to have complete insight and control over your organizations communication.  With OnPage, you get full time-stamped audit trails of all incoming messages. You will know the second a message was sent, delivered, read and replied to, or if the message ultimately failed. OnPage also delivers enterprise visibility to all incoming messages via our Web Management Console.  You can view all incoming messages from any channel (web, email, phone and application) and see the same time-stamped audit trail information.
Having this audit trail and message confirmation knowledge can allow you to improve your communication workflows tremendously.  You can cut out time consuming redundancy plans, stop worrying about callbacks to see if messages were received and read, and be able to take action on non-responsive pages faster than ever before.