KLAS Study Shows Healthcare Concerns over BYOD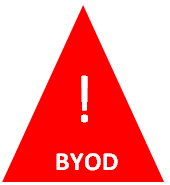 A recent study completed by KLAS Research shows that health care providers are concerned about security and safety in the ever increasing BYOD mobile healthcare environment.
KLAS surveyed 105 CIOs, IT specialists, and physicians to complete their study. They found that 70 percent of physicians use mobile devices to access sensitive information including electronic health records. Even more surprising was that out of the people surveyed, 94% were using Apple products over Android or Blackberry. Apple has become a staple in modern technology and many professions are finding uses for Apple products outside of their normal capabilities. While Apple products and other Smartphone's are impressive, they don't provide the necessary security features that physicians need for communication.
"With the increased use of personal mobile devices in healthcare becoming more prevalent, providers are very concerned about controlling what data is accessed, where it is stored, and how the data can be protected," said report author Erik Westerlind. "In addition, providers say that virtualization, encryption, and mobile device management applications are among the main solutions to combat some of these security concerns."
The report proved that only 46 percent of BYOD users have encryption on their phones. With so few physicians using important security features when communicating vital information there are bound to be mistakes and information could get leaked. If hospitals are going to start moving towards BYOD, its necessary that they provide their physicians with a secure, priority messaging platform to ensure safe communication practices.